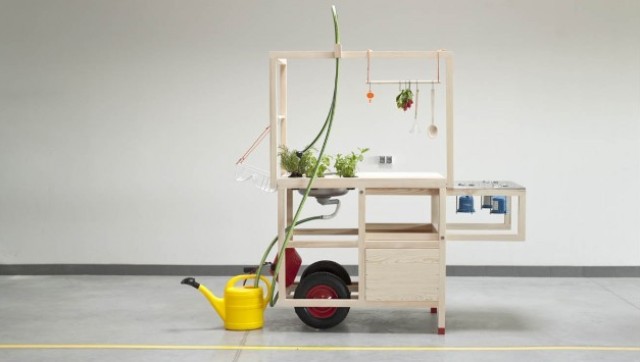 If you've ever dreamed of owning a food cart, but don't want to get into the restaurant business, this mobile kitchens for you. The new mobile kitchen design, first place winner of the NWW Design Awards at Vienna Design Week, lets you take your kitchen and dining room on the road.
Designed by Ania Rosinke and Maciej Chmara, this sleek Ikea-type wood design is based on the concept of the wheel barrow. With one big wheel in front, you can move your cooking and dining locations at your fancy. The kitchen is equipped with a sink, counter space, rack for hanging tools and a gas hob. The dining table comes with 10 folding stools.
The idea behind this design was to find a creative and unique way to use public spaces in cities. The designers achieved their goal. Coming across a private dinner party on the street on your way home from work would definitely be out of the ordinary. But we're not saying we wouldn't like it. Watch the video to see how the mobile kitchen works.
Want to read more from HuffPost Taste? Follow us on Twitter, Facebook, Pinterest and Tumblr.
Check out these futuristic kitchen gadgets.
PHOTO GALLERY
Futuristic Kitchen Gadgets