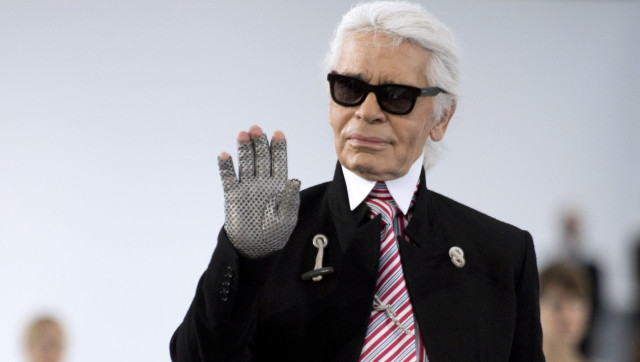 Karl Lagerfeld isn't a man who's known for choosing his words wisely. During his frequent public interviews, the Chanel designer has said everything from Adele is "too fat" to Pippa Middleton's face is unattractive (to be fair, he did say he liked her behind). Now, it seems that he's bitten off more than he can chew yet again with his latest comments.
In an interview with England's "Channel 4 News," Karl scoffs off questioning about the prevalence of too-skinny models in the fashion industry. "The models are skinny, but they're not that skinny," he says. These comments come on the heels of Vogue's Health Initiative that recognizes a problem in the industry and promises to not work with models under the age of 16 or that "appear to have an eating disorder." The initiative has already been broken by Vogue China and Vogue Japan since May.
The Kaiser, who publicly suffered through his own weight loss troubles, claims that overweight girls outside the fashion industry are more of a problem than underweight models:
"The story with anorexic girls -- nobody works with anorexic girls. That has nothing to do with fashion. People who have that, they have problem with family and things like this. There are less than 1 percent of anorexic girls, but there are over -- in France, I don't know about England -- over 30 percent of girls who are big, big, overweight."
Could it be that Karl's already forgotten about the time when Marc Jacobs sparked outrage by hiring underage models to walk the Fall 2012 catwalk or all of the countries, including Israel and Spain, that have gone out of their way to address the problem of too-skinny models? It's also noteworthy that Karl is a man entrenched in the industry that he's defending. Perhaps healthy BMI is in the eye of the beholder?
When asked if he feels responsible for the health of the models he works with, the creative director replies, "I can tell you all kinds of moral tales, but fashion and reality are vaguely different."
What do you think of Karl Lagerfeld's comments about underweight models in the fashion industry? Do you think there's a problem?
Watch the full interview below:
Check out more of Karl Lagerfeld's crazy quotes!
PHOTO GALLERY
Karl's Crazy Comments
Want more? Be sure to check out HuffPost Style on Twitter, Facebook, Tumblr, Pinterest and Instagram at @HuffPostStyle.