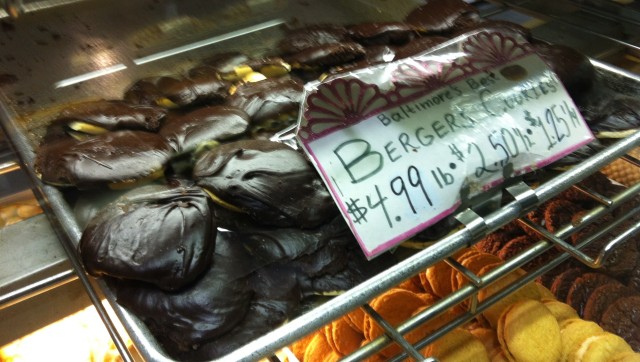 BALTIMORE -- If you've ever had Dangerously Delicious' Baltimore Bomb pie, the critical ingredient in the oh-so decadent dessert is a little not-so-healthy treat that's been a favorite in Charm City for generations: Berger cookies.
The Huffington Post made an excursion to Lexington Market this weekend where Bergers Cookies has a stall. We naturally picked up some of the classic thick cookies, topped with a generous helping of fudge frosting.
These days, you don't have to make the trek to Baltimore to procure Berger cookies. For D.C. consumers, Berger cookies have been slowly making their way south into grocery store shelves at Giant and other retailers.
Story continues below ...
PHOTO GALLERY
Bergers Cookies At Baltimore's Lexington Market
As Andrew Reiner wrote in The Washington Post this spring,
Bergers owner Charles DeBaufre Jr. saw an opportunity
in the D.C. marketplace:
While I don't begrudge DeBaufre the chance to make a buck, I do worry if Washington can ever fully appreciate the Berger cookie. After all, this is the same city that earned top honors as healthiest in the country, three years running, in the annual American Fitness Index. And it's the same city that the legendary French bakery Paul (the same Paul that bakes some of its rustic breads for seven hours) fingered to open its flagship American bakery. Is this cosmopolitan region really ready to embrace a cookie that admittedly looks as if its fudge creme topping was slapped on by 5-year-olds hopped up on Mountain Dew?
Reiner has a point. But if you're a cookie lover who loves a super sweet shot of fudge, you won't care. "[T]he sheer girth of frosting so commands attention that it's difficult to focus on anything else," he wrote.
So in other words: Just eat them.
BEFORE YOU GO