Mike 'The Situation' Sorrentino is perhaps best known for his near-constant tail chasing on the MTV hit show, "Jersey Shore." But now the reality star is using his notoriety to advocate against promiscuity--among dogs and cats, that is--with a new PETA ad that aims to raise awareness about the need to spay and neuter companion pets.
The campaign kicked off with an unveiling in Times Square on Thursday accompanied by the tagline: "Here's the Situation: There are more cats in shelters than there are homes for them." "Cats and dogs need safe sex, too!" the ad reads.
Sorrentino also appears in a video for the animal rights group, in which the famously muscle-bound star hangs out shirtless with some cute and ostensibly spayed kittens.
PETA also released a more NSFW version of the ad campaign on its website, this one featuring Sorrentino, still surrounded by felines, along with the eye-catching headline, "Too much pu**y can be a bad thing."
SCROLL FOR IMAGE (WARNING: CONTAINS EXPLICIT LANGUAGE)
According to PETA, 6 million to 8 million abandoned, lost, or unwanted dogs and cats enter animal shelters every year, about half of which are eventually euthanized because they cannot be placed in safe homes. This number does not represent the number of homeless cats and dogs, however, that when left to their own devices are at risk for starvation, disease and injury.
"When I hear something on the news about animals being abused, it's a very, very sad thing," Sorrentino says in the video, "because animals don't have a voice. If you have witnessed animal abuse I would suggest you call the authorities."
The television personality also advises prospective pet owners to adopt from shelters and fix their pets.
According to the ASPCA, the cost of spaying and neutering a pet is less than the cost of raising puppies or kittens for one year.
PETA is no stranger to controversy as far as its ad team is concerned. The group has used naked and nearly naked shots of famous celebrities in its famous anti-fur campaign, "I'd rather go naked." PETA has had several video spots banned for risque content, including an airport-security themed spot starring Pamela Anderson and this "casting video" for the steamy Super Bowl spot, "Veggie Love."
LOOK: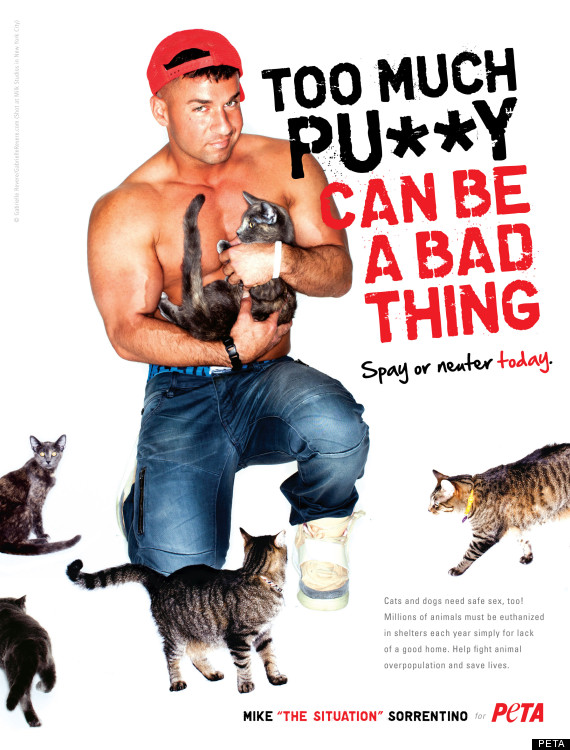 PHOTO GALLERY
Explicit PETA Ads
BEFORE YOU GO