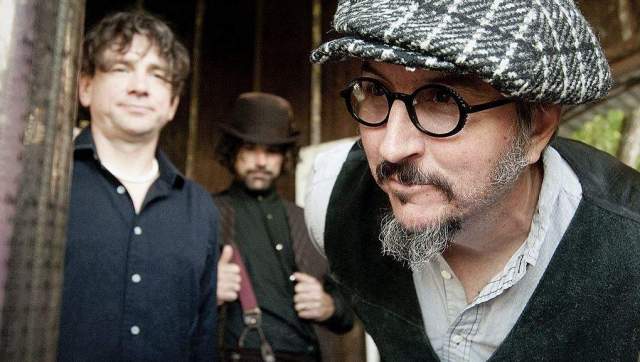 TOP 5 FOR MONDAY, OCTOBER 15
1. Primus 3D At FIllmore Silver Spring
Les Claypool and Co. play the type of polarizing rock music that Frank Zappa fans like. Twenty-plus years into a long and weird career, you'll know if you like Primus within five seconds of hearing Claypool's slap bass sound. 8 p.m., all ages, $45
2. "Burn: One Year On The Front Lines To Save Detroit"
The winner of the Audience Award at the 2012 Tribeca Film Festival screens at the AFI as part of the DC Labor FilmFest. This documentary follows the lives of Detroit firefighters attempting to do their job in a city partially in ruins. Tonight's screening was just added to the festival due to last Friday's sold-out screening. Along with "Searching for Sugar Man" and "Detropia," Motown has proven a great canvas for documentaries. 9:25 p.m., all ages, $7 to $11.50, also Wednesday, October 17
EVERYDAY IS HALLOWEEN PICK
3. Costume Swap At Southwest Library
Have a costume that you no longer want? Head to the Southwest Library to donate it and pick up a ticket for a different costume. You'll be able to pick up a new costume this Wednesday. A chance to get rid of something you were probably going to throw away and get the kids to the library. 1 p.m. to 9 p.m., all ages, no cover, also Tuesday, October 16
4. EatWell DC
To celebrate the start of Growing Healthy Schools Week, EatWell DC restaurants Commissary, Logan Tavern, The Pig, The Heights and Grillfish will donate 15 percent of all purchases made between 4 p.m. and 10 p.m.
5. Passion Pit At 9:30
When you're the musical guest on "SNL" on Saturday, it's likely you'll be able to sell-out the 9:30 Club on the next three nights. Sold Out, Also Tuesday, October 16
TOP 5 FOR THE NEXT 5 DAYS
Tuesday, October 16
"Nightmare Factory" at AFI Silver Spring
A documentary about the man responsible for the zombies in "The Walking Dead," "Day of the Dead," "Evil Dead 2" and other films and television shows where zombies look like zombies, Greg Nicotero.
Wednesday, October 17
Mavis Staples at The Hamilton
The rhythm and blues and gospel singer and civil rights activist is a legend. Any opportunity to see one of the Staples Singers should be taken. Thanks to the Jeff Tweedy produced, "You Are Not Alone," it appears that more people are doing just that, seeing her at larger venues.
Thursday, October 18
Collecting Art 101 at Smith Center for Healing and the Arts
This city is rich with art critics, world-class museums and up-and-coming producers. But what should you buy? If you're not so sure if you have good taste, this event may be for you.
Friday, October 19
Kathy Griffin at DAR Constitution Hall
Griffin is written off by comedy nerds because she's successful. On-air friends with Anderson Cooper, successful books about drinking wine with her mom and an adoring niche fan base, Griffin doesn't seem to care what the comedy elite think. She's perfectly happy selling out large theaters on a weekly basis.
Saturday, October 20
Haunted Halloween Scavenger Hunt at Old Town Alexandria
Scavenger hunts are fun, especially when they're spooky.
PHOTO GALLERY
Spooky Movie International Horror Film Festival
BEFORE YOU GO