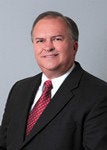 A Republican county official in South Carolina admitted in a sworn affidavit that he was a member of the Ku Klux Klan when he was younger.
Anderson County Councilman Eddie Moore (R) made the admission while giving testimony in a deposition for litigation pending between the county government and former county administrator Joey Preston. Moore, who is running for reelection this year, admitted to being a KKK member in "my early younger days," saying the membership lasted for a few years, WSPA.com reports. The membership came while he was a deputy sheriff in Anderson County.
WSPA.com posted a transcript of the KKK section of the 216-page deposition, which included Moore saying he went to meeting but did not participate in "ceremonies" sponsored by the KKK. Moore also indicated he did not participate in cross burnings.
"I don't recall owning a hood," WSPA.com reported Moore as saying. "I went to some meetings and that was it."
Moore told WISTV.com that he did not actually join the KKK but was watching the group at the request of the county sheriff. He said he'll look into amending the affidavit. Moore also pointed to his support for blacks.
Moore released the following statement, "I think that what I have done on council for the last four years speaks very loudly about how I feel about African-Americans. I've sponsored renaming the law enforcement center after Carl Anderson. I sponsored renaming the road after Jim Ed Rice when he went into the hall of fame. I honored Loretta Holloway on her accomplishment in jazz music, and just literally dozens of black athletes ... for them to go on something 40 years ago that happened when I was deputy sheriff is just absolutely -- there's just not enough words to describe about how I feel about things like this coming out when I feel that I have proven myself. I'm not going to try this thing -- it'll go to trial."
Moore is running against James Mitchell Cole in next month's election representing the 3rd District on the county council. Moore did not return a call left for comment on Tuesday.
The Moore deposition comes as racial issues become more prevalent in the election. Two Republican members of the Arkansas House of Representatives -- Jon Hubbard and Loy Mauch -- havein the past written in support of slavery. Arkansas Republicans have distanced themselves from both.
Daniel Johnson, a Natural Law Party congressional candidate in Michigan, is running on a platform focused on white supremacy and environmental protection.
*************************
What's happening in your district? The Huffington Post wants to know about all the campaign ads, mailers, robocalls, candidate appearances and other interesting campaign news happening by you. Email any tips, videos, audio files or photos to openreporting@huffingtonpost.com.
BEFORE YOU GO
PHOTO GALLERY
2012 Swing State Polls