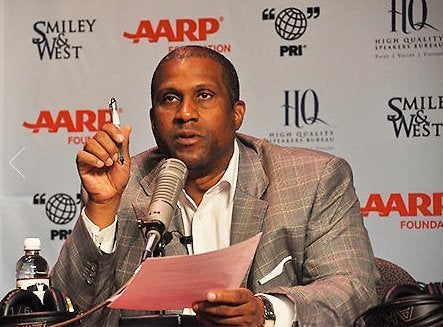 "In my 20 years of being a broadcaster, this letter represents the very first time I have felt compelled to write a personal note to the head of a local station."
Smiley goes on to say that while he "respect[s] the public media model that stations know best," he had a different take once he caught wind of comments Malatia had written to WBEZ listeners disappointed by the cancellation. In his letter to listeners, Malatia suggested Smiley's program had become "far less inclusive." Smiley pointed to his array of diverse guests, including this past summer where he featured exclusively conservative voices for a week.
"As an African American in the still-too-lacking-in-diversity world of public media, one does not survive in these environs—much less thrive—if one's interview style is remotely akin to the intellectual bullying of Bill O'Reilly. To compare my work to his in your letter to listeners is to defame me in the worst way. I take pride in being the first African American in the history of PBS and NPR to simultaneously host his own signature weekday public television and radio shows, opening the doors for other persons of color to now host or co-host award-winning programs over public media."
"The show had developed much more of an 'advocacy' identity, which is inconsistent with our approach on WBEZ. The goal is to present public affairs content that is reasonably balanced. We feel that Smiley & West had become a departure from this approach."
In his letter, Smiley indicated that he's already in talks with other Chicago radio stations to possibly pick up "Smiley & West" in the wake of WBEZ's cancellation of the program. "Smiley & West" has been cancelled by other stations prior to WBEZ's move, including WBUR-FM in Boston, KWMU-FM in St. Louis and KMOJ-FM in Minneapolis.
Smiley hosts the late-night television talk show "Tavis Smiley" on PBS and "The Tavis Smiley Show" from Public Radio International (PRI) in addition to co-hosting "Smiley & West" with Cornel West.

BEFORE YOU GO