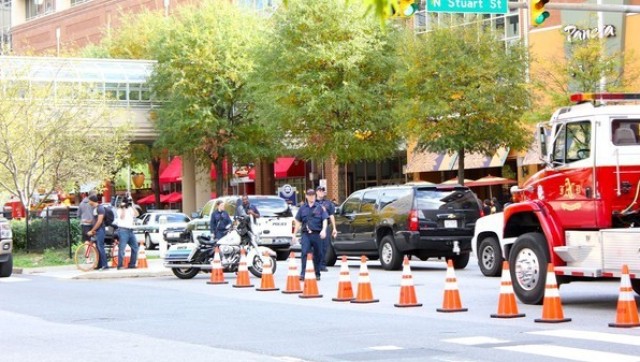 ARLINGTON, Va. -- A man threw a molotov cocktail into the Ballston Common Mall's food court on Thursday prompting an evacuation. A "person of interest" was detained a few hours later by Arlington County police after an "eagle-eyed resident" spotted a man matching the suspect's description walking near the Cheesecake Factory in the Clarendon neighborhood.
Arlington County issued a news release saying that the police were notified just after noon about the incident:
The initial investigation revealed that a black male with curly hair and wearing a gray jacket stood on the top level of the mall and dropped the bottle into the Food Court. The 40-ounce bottle was filled with an unknown substance, with a fuse attached. The bottle shattered, but there was no explosion or fire. There were no reported injuries.
Police found three more similarly-filled bottles elsewhere in the mall.
As ARLNow.com reported Thursday afternoon, a "person of interest" was detained near the county government complex. A bomb squad was called in to investigate the person's belongings, which were found to contain electronics and other items.
Via Patch
:
"We received a call about a man walking in Clarendon who matched the description we had put out," Arlington County Police Lt. Michael Watson said. "He was detained and brought into ACPD to be questioned."
WRC-TV/NBC4 reports that "[p]olice are working to determine the suspect's mental state." The man believed to be involved has not been identified.
As Patch reports, the FBI Joint Terrorism Task Force is in charge of the investigation, and is being assisted by the Bureau of Alcohol, Tobacco, Firearms and Explosives.
Someone eating at the mall food court told Patch that
he smelled gasoline as he left the mall
during the evacuation.:
Tre Johnson told Patch that he was eating in the food court when he saw someone on a floor above him — perhaps the second or third floor.

"He yelled something and threw something," Johnson told Patch. "I don't know what he said. It sounded like some weird language."
Arlington police spokesman Dustin Sternbeck told The Huffington Post that that the substance in the bottle "appears to be gasoline."
WJLA-TV/ABC7 reports that police don't believe there to be a terrorism connection; ARLnow.com reports Dustin Sternbeck saying it's "too early to tell."
Twitter user @BrianKal tweeted photos from the scene. ARLnow.com has a gallery of photos, as well.
This is a developing story...
BEFORE YOU GO
PHOTO GALLERY
Worst Food Court Items