Jenna Maroney is your typical Hollywood star, just amplified several hundred percent. When it comes to her age, the "30 Rock" character has been known to fudge the truth. In the recent Season 7 episode "Stride of Pride," Jenna (Jane Krakowski) planted a tabloid item lying about her age. Which might not be unusual, except she told the magazine she was 56 years old.
The show included a shot of the magazine article with the headline: "Jenna Maroney, Looking great at 56." After it aired, the official "30 Rock" Facebook page posted the fake article, and its contents were hilarious.
The article reads:
"Eternally youthful television superstar Jenna Maroney is rocking the red carpet this season, giving much younger actresses a run for their money. "It's important to me that I stay in shape so that I am fit enough to inspire bitter envy across generational lines."

Her workout includes yoga, aerobics, starving, running, jumping rope, starving, weight lifting, kickboxing, starving, cycling, swimming and special walking to and from all her various workout routines and important show business appointments.

"Food is over-rated. Dry cereal has more vitamins than you'd think and if you add water and close your eyes the water could pass for milk."
Oh, Jenna.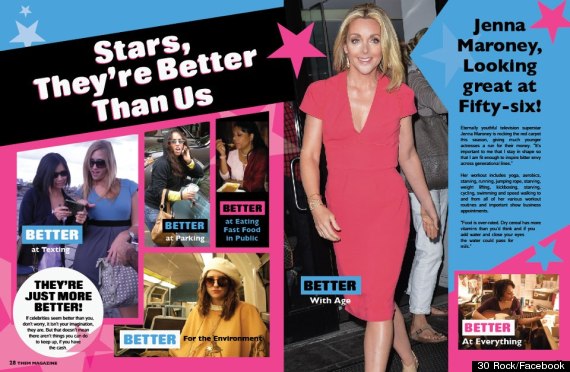 "30 Rock" airs Thursdays, 8 p.m. ET on NBC.
BEFORE YOU GO