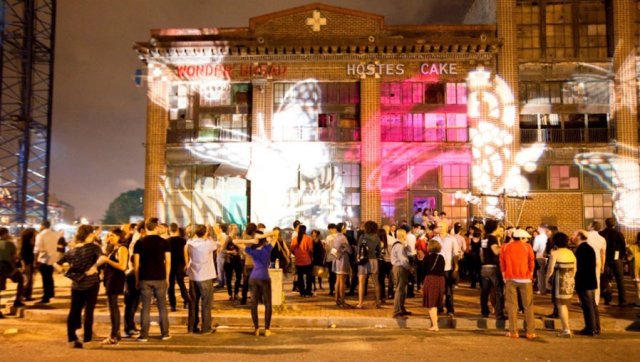 WASHINGTON -- There's no doubt about it: The second edition of "Art All Night" will be massive.
Beginning Saturday at 7 p.m. and running until at least 3 a.m. -- don't be surprised if some after-parties pop-up -- art fans, tourists and confused passersby will have eight hours to peruse eight venues in Chinatown. Admission is free.
It is not possible to see every piece of art and every performer at this 2012 edition of "Art All Night." Rather than attempt to absorb as many acts as possible, attending these parties just needs an open mind, a basic understanding of each space and comfortable shoes.
Below is a short description of installations and performances scheduled. Visit facebook.com/ArtAllNightDC and follow them on Twitter @ArtAllNightDC for updates on performances and chances to win some prizes.
923 F St. NW
Caos on F
This mixed-use space will feature vidoes from Chukwuma Agubokwu, Lara Stein Pardo, Terence Nance, Nyugen Smith and Mandy Cano Villalobos on the first floor and open studios with jewelry, portraits and snacks on the second floor. Collectors take note, 10 percent off works during Art All Night.
915 F St. NW
The Pallet Project
Art installations, live silk-screening, DJs, bands and experimental music. If you don't like what you hear, come back in an hour.
800 I St. NW
Tech Plaza
One of the feature destinations for "Art All Night." Deirdre Ehlen curated sound and light installations from four artists. The Illuminated Art Ride stops by at 9 p.m. More bands, DJs and performances from local musicians.
421 7th St. NW
Alliance Francaise Annex
There will be music, art and films, but what makes this a neat stop are the free French mini courses for beginners and intermediates.
812 7th St. NW
The Goethe Institut
Not into the local? Two German language films about Berlin will be screened at 7:30 p.m. and 10 p.m.
401 9th St. NW
Kaffa Club
Curated by Metasebia Yoseph of The Muse Collective, the old Soho Cafe will feature paintings and photography of local Ethiopian artists Yodith Dammlash, Solomon Asfaw and Tirsit Desta. There's also live painting at 9 p.m.
734 11th St. NW
SAX
This location may be the center of the "Art All Night" universe. Art Soiree has curated a re-creation of Versailles, there will be live painting and body art by Ekaterina Krupko, more live music, more DJ sets, burlesque, acrobatics, ballet and more. Camping out for the duration of the night at SAX might not be a bad idea.
901 New York Ave. NW
Touchstone Gallery
The artist-owned contemporary art gallery founded in 1976 will feature works from Ai-Wen Wu Kratz and Rhona LK Schonwald.
Click below for a small sample size of venues, performers and art at Art All Night 2012.
PHOTO GALLERY
Art All Night Preview
BEFORE YOU GO