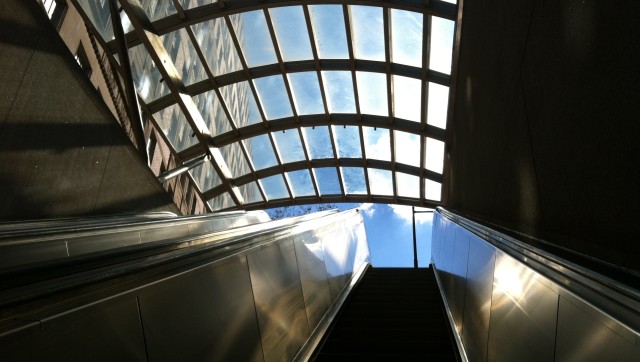 WASHINGTON -- The completion of a Metro escalator rehabilitation project isn't usually the cause of a huge celebration, but the escalator project at the Dupont Circle station's south entrance was no ordinary undertaking.
The escalators, closed for eight and a half months for a complete rebuilding, reopened to the public this weekend with a special ribbon-cutting ceremony on Sunday.
The south entrance originally had two escalators, but a third unit was built in 1997 to accomodate increased passenger volume. But those escalators were built by a manufacturer that had gone out of business. Over the years, finding replacement parts was highly difficult and the escalators were often out of service. Instead of rehabilitating the unreliable escalators, Metro decided to rebuild them totally.
According to Metro,
the escalator project was one of the transit agency's most complex
:
Working in a narrow space with the proportions of a drinking straw, the old escalators, each weighing nearly 55 tons, had to be cut into 24 separate sections and individually moved out of the entrance on three separate cranes. Then each section of the new escalators had to be installed 24 sections in all, each traveling on 3 cranes. In total, there were nearly 150 crane picks during the project, many happening late at night with 19th Street closed to vehicular traffic.
Before the rehabilitation, the south entrance at Dupont Circle saw roughly 23,000 commuters on an average weekday.
Take a look at the new escalators ...
PHOTO GALLERY
Dupont Circle South Escalators Reopen
BEFORE YOU GO