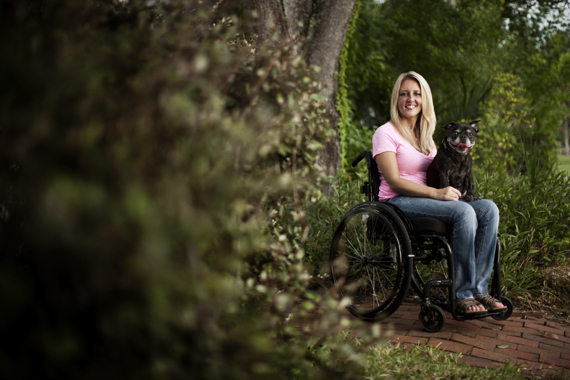 Ford at home with her dog Dominik (Photo by Robert Snow)
Some would rather not remember their middle school days, much less walk through those doors again, but anti-bullying advocate Gabrielle 'Gabe' Ford not only visits schools regularly, but willingly relives her painful experiences each time.
Since 2003, Ford, 32, has been speaking to children and adolescents in small classrooms, huge assembly halls and even juvenile detention centers about the damage and trauma (both mental and physical) that bullying inflicts on fellow students. Gabe draws on her own experiences being bullied throughout middle school and high school, where barbs were usually aimed at her rare neuromuscular disease called Friedrich's Ataxia.
"Kids that were physically different were more of a target—weaker physically, more passive. I mean, I couldn't really stand up for myself," said Ford. "They'd make fun of me for everything—every little thing about me was wrong to them."
EARLY YEARS
Ford was born with the genetic disease, which is progressive in nature and forced her into a wheel chair at 25. However, Ford's symptoms didn't show until she was about 12-years-old, a time when she was focused on ballet, and generally very active. As the disease escalated, Ford's dancing dreams were put aside and replaced with the self-consciousness that stemmed from her inability to walk with ease and frequent struggles to keep her balance. These insecurities were quickly exploited.
"They knew my balance wasn't good—it was easy for me to fall," she says. "They would trip me, push me into the wall or other people. They'd take things from me and wouldn't give them back."
In addition to the physical harassment, Ford also had to deal with a barrage of insults and rumors regularly circulating about her. With no niche for herself and no real friends at school, she retreated further into herself. Ford's routine consisted of chores, dinner and homework in her room—with a self-enforced closed-door policy.
"I didn't open up much about what was going on," recalls Ford. "What I did, ignoring it, thinking it was going to go away was wrong—it doesn't. You can't ignore it.
Things began to look up for Gabe when, just four days before her 20th birthday, she met her best friend—a long eared coonhound named Izzy.
"I started coming out of my room. My time was being occupied by this puppy and I was taking care of her and was also taking care of myself. Now I had somebody to be with me by my side," she says.
Coincidentally enough, Izzy (short for Izabel) also suffered from a rare muscle disease, and the two remained inseparable. Izzy passed away three years ago, but not after spending almost eight years traveling with Ford on her speaking tour and meeting children at assemblies.
'VOICE FOR THE BULLIED'
Ford travels to about 25 to 30 schools per year, and when Huffington caught up with her, she had just given a presentation to the students of the New York school made infamous after a video surfaced of children berating the school bus monitor.
"Bullying is a choice," she says, citing the most important wisdom she would like children to take away from her presentation.
"That's my main focus. How somebody acts and what they say to somebody is a choice. My disease was not a choice."
Her first presentation on bullying came when her uncle, a school teacher, convinced her to come talk to his students about her experience, both for their benefit and for Ford to have more experience with public speaking.
"It was very difficult for me. Never prior to that had I talked to people about my disease or the bullying that went on. Those were things I just didn't talk about. I was scared.  I wasn't sure how people were going to treat me, react," she recalls. "But it was well-received. They loved talking to me and asked questions. It opened their eyes."
Not only does Ford's speaking engagements enlighten children about the harm in being a bully, but her experience has inspired those who are frequently the victims of bullies. One of the most rewarding experiences for Ford was when a 13-year-old girl stricken with Alopecia, a disease that results in hair loss, sought her out after the presentation.
"When she wears a wig, kids make fun of her. When she doesn't wear the wig, kids make fun of her.  She told me that my words empowered her and my speaking with her helped her realize she is not her disease. And that she was not going to wear a wig after that."
This story originally appeared in Huffington, in the iTunes App store.