Sandwich chains are the subject of research company Market Force's latest report, which found that Panera Bread is head of the pack. Rounding out the top chains were Jason's Deli and McAlister's Deli, Firehouse Subs, Quiznos, Jimmy John's, Arby's and Subway in ascending order.
The national study surveyed more than 7,600 consumers in August, factoring in the number of locations for each chain and the favorite votes earned by each. Fourteen major national and regional sandwich and wrap chains were considered.
Of them, Subway garnered the most total votes -- a predictable feat given the chain's standing as one of the country's largest franchises. But Panera took most the favorite votes per location, perhaps thanks in part to its successful loyalty program.
When it came to sandwich chains on a regional basis, Panera took the crown in all regions except the Midwest, where Jason's Deli came in first. Quizno's and Arby's were only recognized as favorites in the Northeast, but failed to rank in other regions.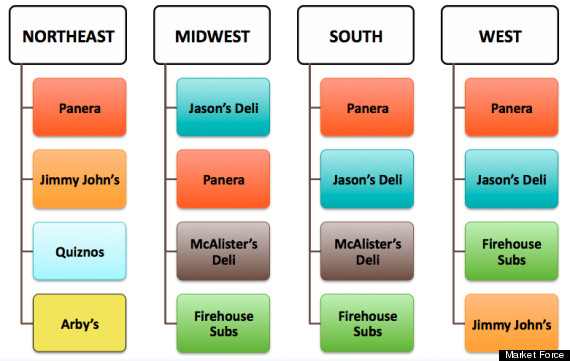 As for food quality, value and cleanliness, Jason's was deemed best in class. Jimmy John's got marks for best service, and Panera was lauded for its pleasing atmosphere.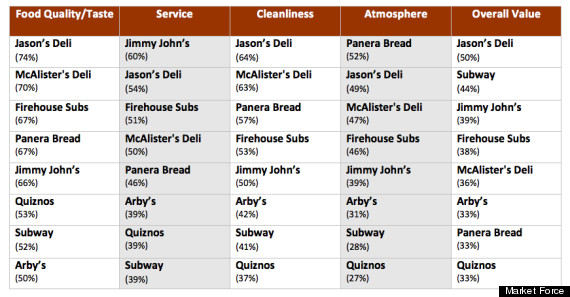 In a release, Market Force's chief marketing office Janet Eden-Harris commented on the findings:
"We're seeing a shift in the sandwich industry, where now the customer experience is just as important as the convenience factor ... Brands like Panera and Jason's Deli are differentiating in areas like atmosphere and health-conscious food, and that's drawing customers in the door and making them return visitors."
Take a look at some of Market Force's other restaurant findings in the slideshow below.
PHOTO GALLERY
America's Favorite Chains
BEFORE YOU GO