There's been a lot of talk about whether Domino's new pan pizza that rolled out about a month ago is serious competition for Pizza Hut, which has offered its own version for years.
Recently, Domino's has been especially brazen in its swipes at Pizza Hut, so we decided it was time for a side-by-side comparison. HuffPost editors ordered two cheese pan pizzas, one from Pizza Hut and another from Domino's, to see which we liked best.
Without further ado, the taste test!
On Domino's pan pizza: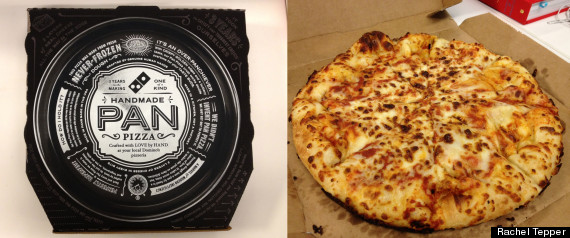 Several editors admitted they were skeptical about Domino's from the start, but were pleasantly surprised with the quality of its crust.
"I was extremely impressed with Domino's," wrote one editor. "The crust had the perfect amount of chew and I thought the cheese was really addicting, if not a bit greasy."
"I'd give Dominos dough a slight edge," mused another. "It has a better texture, it's fluffier."
On Pizza Hut's pan pizza: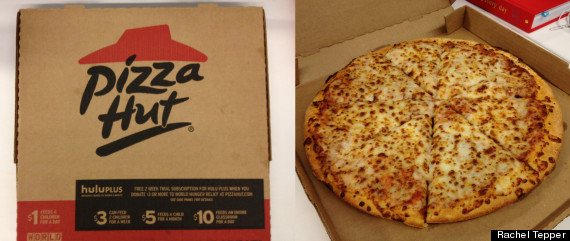 One editor said she could tell Pizza Hut's crust was made with frozen dough because it was "bizarrely uniform and just not appetizing." Adding insult to injury, "I found the tomato sauce to be pretty horrible."
Another editor gave Pizza Hut points for its cheese-to-pizza ratio, though she noted that the slice "looks kind of grey."
Perhaps the most damning assessment of Pizza Hut came from an editor who formerly described herself as a "Pizza Hut girl for life." She advised Pizza Hut to "lay off of the seasoning" because it was "way too much!"
Final impressions:
In the end, HuffPost editors gave Domino's a slight edge over Pizza Hut in the pan pizza department. Still, neither hit it out of the ballpark. One editor perhaps said it best: "They both give me the distinct impression that I will soon have a stomach ache."
BEFORE YOU GO
PHOTO GALLERY
Zagat's 2012 Pizza Survey