Burger joints, best be wary when your menu allows for make-you-own creations -- you might wind up having to make something like this.
Reddit user drowsydame posted the below image with the following explanation:
I'm a cook at a large chain and we are serving BYO burgers.. this monstrosity came through my ticket printer the other day... it needed TWO wood stakes to hold it up and there wasn't a bite left when he was done.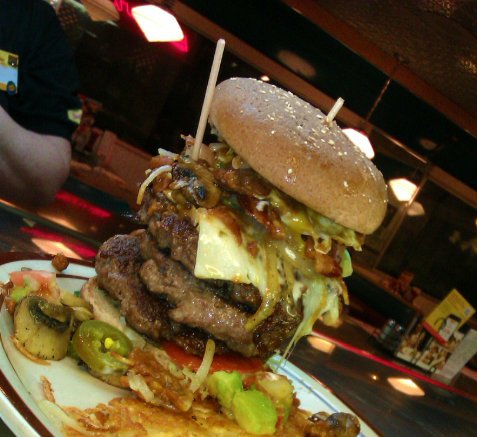 In the comments, drowsydame reveals that she works at a Denny's location and offers a dizzying list of toppings that went into the aforementioned burger.
Take a deep breath before reading through it: lettuce, tomato, grilled onions, grilled peppers, grilled mushrooms, pickles, jalapenos, pico de gallo, one egg over medium, pepperjack cheese, cheddar cheese, hash browns, chili, nacho cheese sauce, avocado, bacon, three burger patties, mayonnaise, chipotle sauce, BBQ sauce and ketchup.
The burger is part of Denny's "Build Your Own Burger" promotion, which is clearly exploited by some patrons. According to the Reddit user, the burger costs $6.50 plus anywhere between $0.50 and $1.50 for each topping.
There must be something in the air today, because there's another photo of burger extremism floating around on Reddit today. User turtlesalad posted an image of a burger reportedly hailing from a restaurant called Big Wheel Burger in Victoria, British Columbia.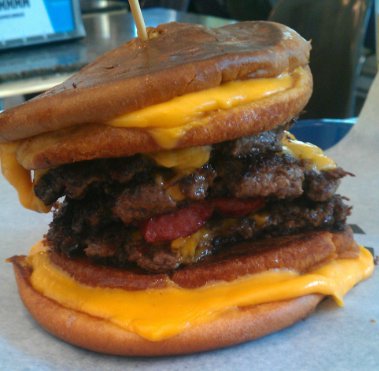 "My local fast food burger shop has a secret off the menu item," writes turtlesalad. "I present the four pattied, two hotdogged, grilled cheese bunned, 18 wheeler."
Don't mind us, we're just going to grab an antacid.
BEFORE YOU GO
PHOTO GALLERY
Over The Top Burgers