In anticipation of Hurricane Sandy, New York Governor Andrew Cuomo announced the MTA will suspend all mass transit service beginning at 7PM on Sunday.
(LIVE BLOG BELOW)
The "orderly suspension" will shut down all subway, bus, and commuter rail service in New York City.
MTA chief Jay Lhota said service should be restored by Wednesday.
From The AP:
The city's mass transit system is the nation's largest. The subway alone has a daily ridership of more than 5 million.

Rainfall is expected to start late Sunday or early Monday in New York. Hurricane Sandy is headed north from the Caribbean to meet a winter storm and a cold front. Experts say the rare hybrid storm that results will cause havoc over 800 miles from the East Coast to the Great Lakes.
In addition to MTA transit, all PATH and Northeast Amtrak service is suspended through Monday. New Jersey Transit is also suspended.
In Philadelphia, mass transit service is also suspended due to the storm. Additionally, over 5,000 flights scheduled to arrive and depart along the East Coast have been canceled due to the weather.
PHOTO GALLERY
Hurricane Sandy
NYC Specific Hurricane Sandy Crisis Map

11/04/2012 12:26 AM EDT
PHOTO: A Marathon Wedding Proposal, Minus The Marathon
HuffPost's Katie Bindley reports:
Like all the competitors who trained for the 2012 NYC Marathon, Hannah Vahaba will not be running the race this year. But she also will never forget her moment at the finish line. After traveling in from Atlanta, Vahaba picked up a marriage proposal in Central Park on Saturday without having to traverse the 26.2-mile course.
"This is my fiance," said Vahaba, 31, who had tears running down her face as she stood in Central Park where the race would have ended, just moments after Martin O'Donoghue had proposed.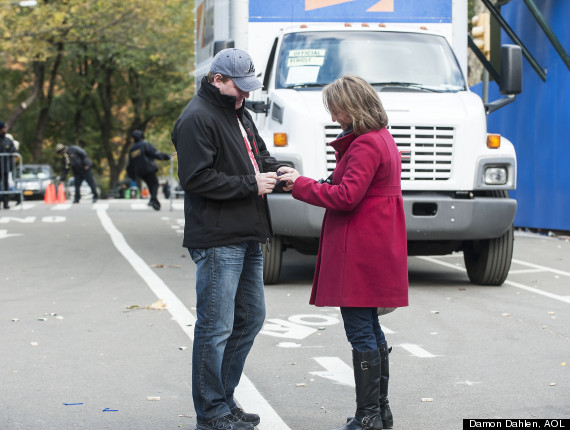 Photo by Damon Scheleur
BEFORE YOU GO