Avril Lavigne and ex-husband Deryck Whibley might have split up three years ago, but that doesn't mean that Whibley can't turn to his ex for some inspiration -- Halloween costume inspiration, that is.
Whibley and his girlfriend, model Ari Cooper, paid homage to Lavigne and her fiance, Nickelback singer Chad Kroeger, this Halloween by dressing up as the newly engaged couple.
Whibley donned the quintessential elements of Lavigne's style -- a hoodie and heavy black eyeliner. He wore a wig of long blond hair, with a neon green streak for good measure. Cooper grabbed a Jack Daniels T-shirt and facial hair for her best Kroeger impression.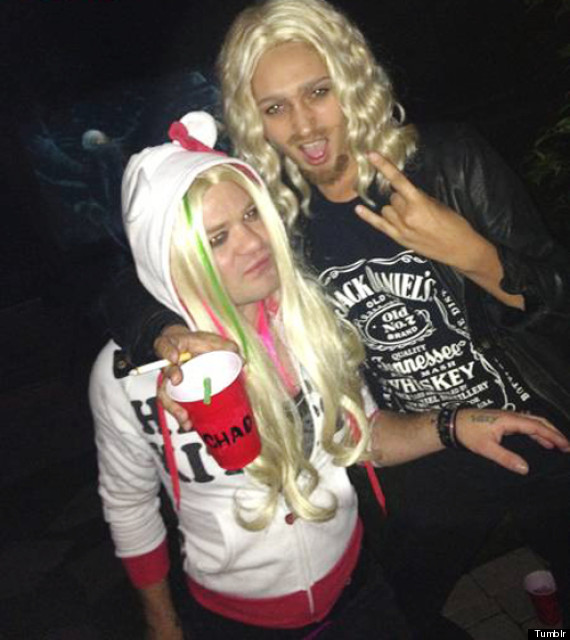 "Talk about storming through a party like your name was El Niño!" joked Entertainment Weekly's Hillary Busis about the Sum 41 singer's cheeky get-up.
Not everyone thought it was so funny, namely Chad Kroeger.
Kroeger was none too pleased with Whibley's Halloween costume and made sure the '90s punk rocker knew it.
Hey Deryck loved the costumes! we were going to dress up as you guys this year but all the parties had celebrity themes haha! -CK

— Nickelback (@Nickelback) October 28, 2012
Nickelback smackdown.
Maybe it is a case of sour grapes. Lavigne and Wimbley split after a little over two years of marriage. When they wed in 2007 she said she was "the best thing that's ever happened to him." She filed for divorce in 2009, citing "irreconcilable differences."
She and Kroeger announced their surprise engagement in August.
BEFORE YOU GO
PHOTO GALLERY
Celebrity Splits