 WASHINGTON -- The Office of Personnel Management announced Monday afternoon that the federal government will be closed on Tuesday as inclement weather associated with Hurricane Sandy continues to push though the Mid-Atlantic states.
From the OPM's website
:
Non-emergency employees (including employees on pre-approved paid leave) will be granted excused absence (administrative leave) for the number of hours they were scheduled to work unless they are:

required to telework,
on official travel outside of the Washington, DC, area,
on leave without pay, or
on an alternative work schedule (AWS) day off.

Telework-Ready Employees who are scheduled to perform telework on the day of the announcement or who are required to perform unscheduled telework on a day when Federal offices are closed to the public must telework the entire workday or request leave, or a combination of both, in accordance with their agencies' policies and procedures, subject to any applicable collective bargaining requirements.

Emergency Employees are expected to report to their worksites unless otherwise directed by their agencies.
PHOTO GALLERY
Hurricane Sandy
11/04/2012 12:26 AM EDT
PHOTO: A Marathon Wedding Proposal, Minus The Marathon
HuffPost's Katie Bindley reports:
Like all the competitors who trained for the 2012 NYC Marathon, Hannah Vahaba will not be running the race this year. But she also will never forget her moment at the finish line. After traveling in from Atlanta, Vahaba picked up a marriage proposal in Central Park on Saturday without having to traverse the 26.2-mile course.
"This is my fiance," said Vahaba, 31, who had tears running down her face as she stood in Central Park where the race would have ended, just moments after Martin O'Donoghue had proposed.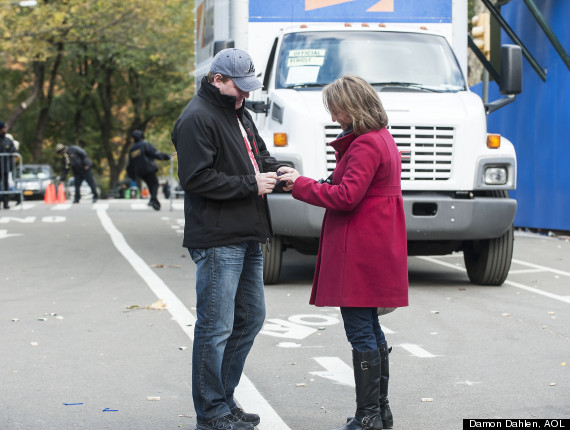 Photo by Damon Scheleur
BEFORE YOU GO