The damage from Hurricane Sandy has the potential to be catastrophic as the superstorm slams the East Coast, prompting mandatory evacuations in several low-lying areas. While Northeastern states have bunkered down, time will tell whether or not emergency efforts were able to prevent severe damage from the storm .
Flooding damage from Sandy had already being reported in Norfolk, Virgina as of Monday morning.
While the projected storm surge, which government forecasters called the "worst case scenario" for the New York metro area, has putNew York, New Jersey, and Pennsylvania in great peril, Hurricane Sandy first wreaked havoc as it made its way up the eastern seaboard. People have been encouraged to report damage from Hurricane Sandy to emergency services.
With coastal flooding from North Carolina to Virginia, including several underwater bridges, and a rising death toll, Hurricane Sandy damage could cost more than $1 billion.
See photos of some of the damage in the gallery, and for more information on Hurricane Sandy, check out HuffPost's live blog of the storm below.
If you have photos of the damage the storm causes to your area either during or after it passes, be sure to submit them to HuffPost Firsthand. However, please exercise extreme caution as conditions worsen and debris remains.
PHOTO GALLERY
Hurricane Sandy
11/04/2012 12:26 AM EDT
PHOTO: A Marathon Wedding Proposal, Minus The Marathon
HuffPost's Katie Bindley reports:
Like all the competitors who trained for the 2012 NYC Marathon, Hannah Vahaba will not be running the race this year. But she also will never forget her moment at the finish line. After traveling in from Atlanta, Vahaba picked up a marriage proposal in Central Park on Saturday without having to traverse the 26.2-mile course.
"This is my fiance," said Vahaba, 31, who had tears running down her face as she stood in Central Park where the race would have ended, just moments after Martin O'Donoghue had proposed.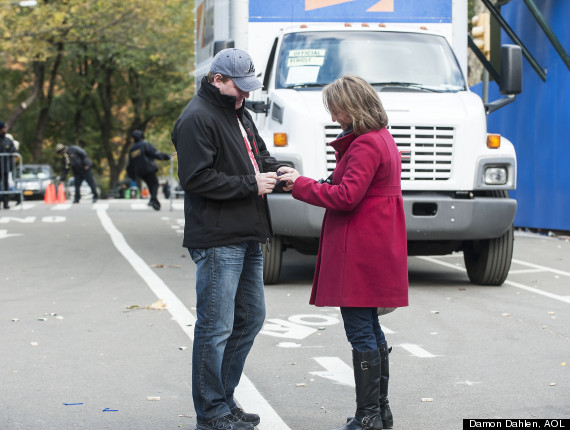 Photo by Damon Scheleur
BEFORE YOU GO