As New York City and the rest of the Northeast brace for the arrival of Hurricane Sandy, which has prompted mass evacuations and a shutdown of schools, businesses, transit systems and the New York Stock Exchange, experts are speculating as to how much damage the incoming storm could cause.
At a macro level, some estimate that the historic storm could cost the country's most populous city -- and the region at large -- tens of billions of dollars, Forbes notes.
According to estimates provided by Kinetic Analysis Corp., a hazard analysis company in Maryland, Sandy could cost New York, Pennsylvania and New Jersey about $4 billion in damages each.
Charles Wilson, the firm's director of research and development, told Bloomberg that the potential damage to the region may range from $15 billion to $18 billion.
Bloomberg notes that if these figures end up being accurate, Hurricane Sandy would become the sixth or seventh most costly hurricane in U.S. history. (Katrina tops the list at more than $105 billion.)
In addition, CoreLogic Inc., which tracks real estate information, said "about 284,000 homes in seven states from Virginia to Massachusetts valued at almost $88 billion are at risk for storm surge damage," Bloomberg writes.
Beyond the direct damage that Sandy may cause, however, experts say that the overall economic damage imposed by the "unprecedented" storm may cost upwards of $35 billion.
According to Fox News, an "initial estimate of the economic losses imposed by Sandy is about $35 to 45 billion." Forbes says it may be closer to $55 billion.
New York magazine notes that New York City alone could rack up damages in the tens of billions if Sandy ends up flooding the subway system.
One 2011 state report suggests that a coastal storm flooding large swathes of the subway system in less than an hour could cost up to $58 billion in economic damages (and lost revenue) and -- more disturbingly for the general population -- leave New York public transit system out of commission for up to a month.
Klaus H. Jacob, a climate scientist at Columbia University's Lamont-Doherty Earth Observatory who wrote that section of the report, told the magazine that such a catastrophe may be "just around the corner."
"If [Sandy] arrives at the high tide, then what we will have Monday late evening will come close to the scenario that is described in that report," he said. "If it is off by a few hours, then I think we will see some subway flooding but not the full scenario."
Jacob added that since Sandy is such a "moody storm," it is impossible to know which of these two scenarios will play out.
No matter how much Sandy ends up costing the region and the country, it is likely that the direct cost to the tens of millions of people whose lives will be temporarily -- and in some cases, permanently -- disrupted will be immense.
11/04/2012 12:26 AM EDT
PHOTO: A Marathon Wedding Proposal, Minus The Marathon
HuffPost's Katie Bindley reports:
Like all the competitors who trained for the 2012 NYC Marathon, Hannah Vahaba will not be running the race this year. But she also will never forget her moment at the finish line. After traveling in from Atlanta, Vahaba picked up a marriage proposal in Central Park on Saturday without having to traverse the 26.2-mile course.
"This is my fiance," said Vahaba, 31, who had tears running down her face as she stood in Central Park where the race would have ended, just moments after Martin O'Donoghue had proposed.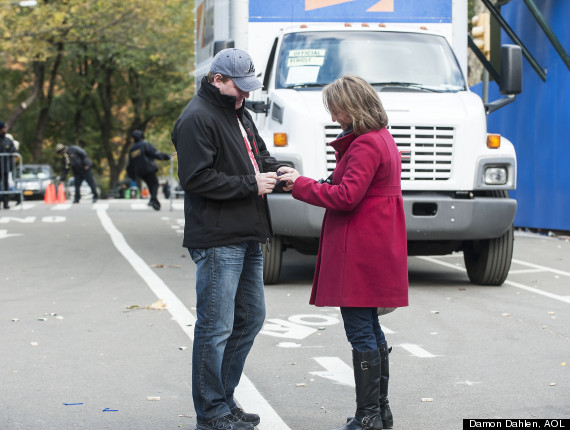 Photo by Damon Scheleur
BEFORE YOU GO
PHOTO GALLERY
Natural Stress Relief