Hospitals in the path of Hurricane Sandy have checked their generators and water pumps, extended hours and set up beds for their staffs, canceled elective surgeries and in some cases moved patients to higher floors or even other nearby facilities.
During major emergencies, businesses and government agencies can close, public transit can shut down and individuals may be able to shelter in their homes until the crisis passes. But hospitals, like police and other public-safety providers, don't have that option because emergencies like this one are at the heart of their missions.
"Hospitals don't close. They just don't close. They're open 24/7," said Priscilla Koutsouradis, the communications director for the Delaware Valley Healthcare Council, part of the Hospital and Healthsystem Association of Pennsylvania that coordinates hospitals in Philadelphia and four suburban counties. Major weather events and other emergencies are "part of the regular drill," she said.
For example, serious flooding in Atlantic City, N.J., hasn't shuttered the AtlantiCare Regional Medical Center's three facilities, which remained open Monday. Flood waters haven't reached the hospital, but the facility has moved emergency care to a higher floor, according to Kerry McKean Kelly, a spokeswoman for the New Jersey Hospital Association.
New York City Mayor Mike Bloomberg vowed today that all of the city's public hospitals would keep their emergency rooms open throughout the storm.
Hurricane Sandy has forced a few closures in the affected area already, however. Two facilities in Manhattan, New York Downtown Hospital and the Veterans Affairs New York Harbor Healthcare System, began moving patients to other hospitals Sunday. New Jersey's Hoboken University Medical Center also decided to shut its doors and relocate patients.
Other hospitals have taken less extreme steps, such as the North Shore-LIJ Health System on Long Island, New York-Presbyterian in Manhattan and the five Meridian Health hospitals in New Jersey, which canceled elective surgeries and other non-emergency services. Staten Island University Hospital sent patients on ventilators to other hospitals and discharged others well enough to go home. The New York City Health and Hospital Corporation canceled outpatient clinic appointments.
In areas less affected by the weather so far, hospitals are continuing operations as normal. Thomas Jefferson University Hospital in Center City, Philadelphia, is operating normally, said spokeswoman Jackie Kozloski. The MedStar Washington Hospital Center in the District of Columbia remains open, but some of its outpatient clinics are closed until noon tomorrow, spokeswoman So Young Pak wrote in an email.
Hospitals are "preparing for this as they would any major event," Koutsouradis said. "Part of being a huge hospital [is] you've got to be prepared to stay operational regardless of weather and travel conditions," she said. In Philadelphia-area hospitals, personnel have hunkered down and will stay as long as they must. "You've got to be prepared to move into the hospital and stay there to ensure that there is adequate staffing, and that's what hospital employees are doing all across the region."
Hospitals put their own internal plans into action to ensure they don't lose power and that physicians, nurses and other personnel are on hand to treat the patients already there and those who may arrive during an emergency. Hospitals also work with each other and with local, state, and federal authorities to align their activities, Koutsouradis said.
In southeastern Pennsylvania, hospitals can access a secure website to see each other's demands for services, needs for supplies, available beds and other information. Hospitals used this system, called the Knowledge Center, during Hurricane Irene last year, and it's being expanded across the state. Hospital and government officials are in regular communication as well, Koutsouradis said.
Preparation is key, so hospitals and government authorities have plans ready and practice them often, said Paul Jarris, the executive director of the Association of State and Territorial Health Officials, a nonprofit organization representing public health officials in agencies across the U.S. "There are plans in place and they are drilled," he said. "There are so many weather and power events occurring now that they're often drilled in real time with real events."
The major crises of the last decade or so, from the Sept. 11, 2001, terrorist attacks to major power outages to Hurricanes Irene, Rita and Katrina, have provided stark, real-life lessons that have provoked improvements in emergency preparedness and response, Jarris said. "We are much better at handling emergencies now to prevent them from becoming true disasters," he said.
The New Jersey Hospital Association's McKean Kelly advised people in need of medical assistance to do what they normally would, in spite of the heightened circumstances: Call 911. "Emergency responders are prepared and have policies and protocols in place to assist throughout the storm," she wrote in an email. "Hospitals plan, prepare and drill for events like this -- by their very nature hospitals are set up to respond to emergencies."
BEFORE YOU GO
11/04/2012 12:26 AM EDT
PHOTO: A Marathon Wedding Proposal, Minus The Marathon
HuffPost's Katie Bindley reports:
Like all the competitors who trained for the 2012 NYC Marathon, Hannah Vahaba will not be running the race this year. But she also will never forget her moment at the finish line. After traveling in from Atlanta, Vahaba picked up a marriage proposal in Central Park on Saturday without having to traverse the 26.2-mile course.
"This is my fiance," said Vahaba, 31, who had tears running down her face as she stood in Central Park where the race would have ended, just moments after Martin O'Donoghue had proposed.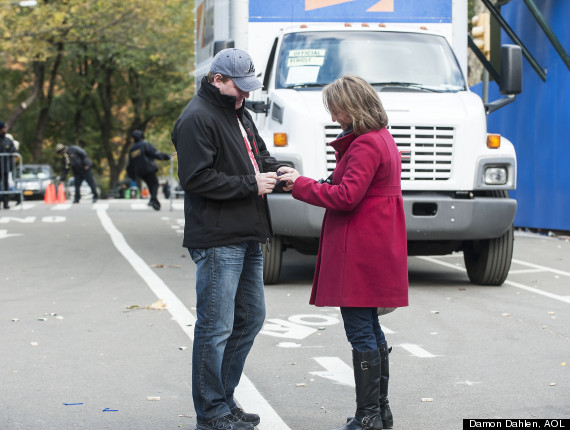 Photo by Damon Scheleur
PHOTO GALLERY
Hurricane Sandy