Hurricane Sandy videos from Cuba and the Bahamas have already shown the kind of massive damage the "frankenstorm" can cause as it barrels up the east coast and heads towards DC, Baltimore, Philadelphia and New York.
[See video slideshow below]
The latest satellite Hurricane Sandy videos and photos show a monster of a storm continuing on its Northeastern Atlantic course after strengthening overnight. If those images and videos aren't enough motivation to take this storm seriously if you live in the impact zone, then consider President Barack Obama's advice to "take Hurricane Sandy Seriously."
Current videos of Hurricane Sandy are already showing the effects of the storm surge along the coast, which are reportedly "already at Irene levels" according to New York Governor Cuomo. Videos are also showing flooding occurring in New Jersey and power outages are already being reported.
WABC-TV has also reported that as of monday morning, according to city officials, most of Atlantic City was underwater, just as Sandy began to bear down on New York.
For more videos of Hurricane Sandy see the slideshow below. And for live Hurricane Sandy updates, keep an eye on our LIVE blog below and breaking Sandy news here.
Related on HuffPost:
11/04/2012 12:26 AM EDT
PHOTO: A Marathon Wedding Proposal, Minus The Marathon
HuffPost's Katie Bindley reports:
Like all the competitors who trained for the 2012 NYC Marathon, Hannah Vahaba will not be running the race this year. But she also will never forget her moment at the finish line. After traveling in from Atlanta, Vahaba picked up a marriage proposal in Central Park on Saturday without having to traverse the 26.2-mile course.
"This is my fiance," said Vahaba, 31, who had tears running down her face as she stood in Central Park where the race would have ended, just moments after Martin O'Donoghue had proposed.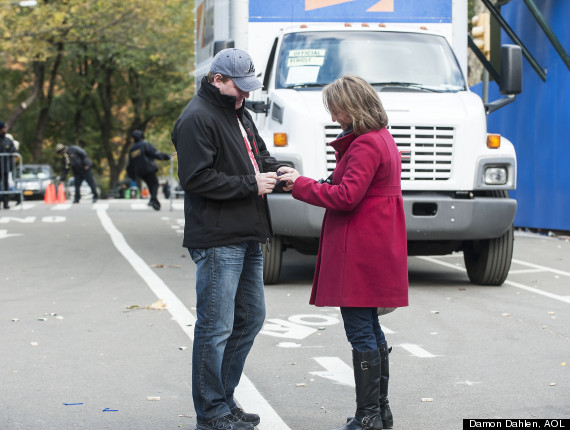 Photo by Damon Scheleur