 BALTIMORE _ Before the sun rose Tuesday, central Maryland appeared to have been spared the worst of Sandy's fury, which was delivered farther up the Atlantic Coast.
One person was killed after a tree fell on his home in Pasadena. A second was killed in a head-on collision in Clarksburg that officials said was connected to flooding. No other deaths had been reported in the Greater Baltimore region as of 7:30 a.m.
Sandy, downgraded from hurricane status just before it made landfall, reached Atlantic City, N.J., at about 8 p.m. Monday and left New Jersey and New York the most scarred.
The hurricane's back end continued to hover over the East Coast Tuesday morning, dropping more rain onto ground already saturated by the 5 to 8 inches of rain that has fallen in the past 48 hours. A flood warning remains effect for all of the counties in the Baltimore-Washington corridor until 10:30 a.m.
As the rains continued to fall overnight, creeks and streams were expected to begin rising, according to Kevin Witt, a meteorologist with the National Weather Service, a development that should increase by Wednesday. Flooding in major rivers will peak on Wednesday, he added, with the Potomac expected to crest at 30 feet, nearly twice its normal level.
Witt said severe rains and winds would last through Tuesday but would likely taper toward normal by late morning Wednesday.
In Baltimore, already flooded streets in low-lying areas and the potential for rising water has led the city to keep road restrictions in effect until noon.
Water is overflowing from the harbor into parts of Fells Point. Nearly 200 trees have fallen throughout the city; about half are in streets, according to Ryan O'Doherty, a spokesman for Mayor Stephanie Rawlings-Blake.
Baltimore Gas and Electric Co. has received reports of about 200 downed power lines in the city. Forty-seven traffic intersections in Baltimore are out, though most are now being supplied by generators. Only 17 intersections were dark at around 7 a.m., O'Doherty said.
Rawlings-Blake has decided to ask people to stay off Baltimore's roads until noon so that emergency and electrical repair crews can reach trouble spots, O'Doherty said. Although early reports make it appear that Baltimore has escaped the worst, reports of damage, downed trees and dangerous wires are likely to increase as the city's residents awake and assess the areas around their homes, he cautioned.
"Public safety is priority No. 1," said O'Doherty. Residents should report downed trees to 311 and downed power lines to BGE, he said. Personnel from the Mayor's Office of Emergency Management were "pre-staged" across the city to assist as calls came in to 311 and 911, backed by 15 emergency officials visiting from Indiana.
The city's road-use restriction does not apply to public safety officers or hospital employees and other medical providers. Business people who have pre-registered with the Corporate Emergency Access System, a credentialing system that the city uses in emergencies, are allowed on the streets so that their companies can continue to offer continuous service, he said.
Though no other jurisdictions have instituted driving bans, other counties were asking people to stay off the roads while emergency crews got to work.
"Unless absolutely essential, please stay off the roads a little longer as utilities, roads department and emergency crews get their first daylight look at things and start the recovery," said Mike Dixon, a spokesman for the Cecil County Department of Emergency Services.
About 193,000 Baltimore Gas and Electric Co. customers without power just before 7 a.m., about 50,000 of those customers are in Baltimore. Anne Arundel had the most outages in the region _ about 57,000, about a quarter of the county's homes. Still, that was fewer than officials expected and under the number of outages caused by Hurricane Irene last year.
"Anne Arundel County is typically in the cross-hairs," County Executive John R. Leopold said Tuesday morning. "We have more than 500 miles of shoreline and our low-lying areas are always susceptible. But we didn't take as big a hit as other jurisdictions."
Utility officials have said that this round of power outages could throw life out of kilter for tens of thousands over the next several days, if not longer. About 2,000 out-of-state workers are currently working with BGE to restore power, BGE officials said. Another 1,000 are expected later Tuesday.
The utility is conducting a damage assessment today and is not expected to make predictions before Wednesday about when power will be restored to all customers.
One meteorologist called the massive storm, forecast to hover over the Eastern Seaboard through this evening, "the Northeast's Katrina in terms of impact."
Though the powerful core of the storm has moved northwest through Pennsylvania, gusts of 50 miles per hour are still possible, and rain showers will continue.
Most schools, government offices and businesses remain closed Tuesday.
"Sometimes the aftermath of a big storm, when people think it is safe, can be the most dangerous," said Steve Zubrick, a meteorologist with the National Weather Service. "There are downed power lines, weakened trees and remnants of the system to deal with."
The weather system was downgraded to a post-tropical cyclone when it hit the southern New Jersey coast Monday evening, as Marylanders braced for a night of winds gusting up to 65 miles per hour. Those intense southerly gusts were in part responsible for downing trees with root systems weakened by saturated soil, officials said.
The storm prompted some areas such as Ellicott City and parts of Harford County to begin voluntary evacuations Monday night. An estimated 1,200 Marylanders spent the night in 41 shelters.
Outside Maryland, Sandy caused millions of outages. New York in particular coped with heavy flooding after high tide as well as blackouts. As of late Monday night, The Red Cross had 112 shelters open on the East Coast. The Federal Emergency Management Administration had more than 1,500 staff on hand, and thousands of National Guardsmen were deployed to help affected states deal with the storm.
Many described Sandy _ a rare confluence of a northward-moving tropical front and a low-pressure trough that arrived via the Midwest _ as "life-threatening."
The storm caused its first fatality in Maryland when 66-year-old Mai Ai Lam-Phan of Montgomery County was killed in a head-on collision Monday in Clarksburg. Noting witness reports that there was standing water on the roadway, the Maryland medical examiner said the accident would not have happened were it not for the hurricane, while Montgomery police were more cautious, stating only that the storm might have been a factor.
The Pasadena man who was killed when the tree fell on his home shortly before 11 p.m., in the 7700 block of Suitt Drive, has not been identified by police.
As of 6 a.m., workers were awaiting a crane to remove an 80-foot tree that crashed into the kitchen, killing a 73-year-old man inside, said Leopold.
Leopold said family members told him the man was a construction engineer.
All flights in and out of Baltimore-Washington International Thurgood Marshall Airport were canceled through Tuesday, as were train, light rail and bus services across the state.
The Bay Bridge also remained closed. Inspectors were out on the bridge Tuesday morning, checking for damage and conducting a safety check.
The Tydings Bridge, which carries Interstate 95 over the Susquehanna River, is open. The Key Bridge and the Hatem Bridge are open, with restrictions on tractor trailers and box trucks, the Maryland Transportation Administration reported.
Most public schools, colleges and universities in the region were shut down, and many were signaling they'd do the same for Tuesday.
Federal, state and local government offices remained closed for non-essential employees, as were Fort Meade and Aberdeen Proving Ground, and while most hospitals remained open for routine business.
Johns Hopkins Hospital announced it was canceling all outpatient appointments Tuesday.
Flooding, downed wires and fallen trees kept 27 roads closed in Anne Arundel County Tuesday morning, as county workers responded to reports of trees falling into houses. Eleven other Anne Arundel roads were partially closed from storm damage, and officials urged motorists to stay home.
Dozens of roads were closed in Baltimore County because of flooding or downed wires or trees.
In Baltimore, no sewage overflows had been reported. The Jones Falls rise feet above its banks but was receding Tuesday morning, even as rain continued to pour down.
Robert Judge, spokesman for Exelon Power, which operates the Conowingo hydroelectric dam on the lower Susquehanna, said the company does not expect to need to open floodgates to release rain-swollen waters until Tuesday. Based on weather forecasts on Monday, Judge said the dam operators expect to need to open 10 gates in total between Tuesday and Thursday, far fewer than the 43 opened after Tropical Storm Lee drenched the region in September 2011.
In response to rising water, suggested evacuations began Monday night on Main Street in Ellicott City, but people in the area Tuesday morning were feeling that they had dodged a bullet.
Water had covered the intersection of South Broadway and Thames Street and Henderson's Wharf in Fells Point.
___
Baltimore Sun Media Group reporters Erin Cox, Andrea Siegel, Candus Thomson, Julie Scharper, Chris Korman and Jamie Smith Hopkins, contributed to this article. The Associated Press and Patuxent Publishing also contributed.
___
(c)2012 The Baltimore Sun
Visit The Baltimore Sun at www.baltimoresun.com
Distributed by MCT Information Services
PHOTOS (from MCT Photo Service, 202-383-6099): WEA-SANDY
GRAPHICS (from MCT Graphics, 202-383-6064): SANDY
BEFORE YOU GO
11/04/2012 12:26 AM EDT
PHOTO: A Marathon Wedding Proposal, Minus The Marathon
HuffPost's Katie Bindley reports:
Like all the competitors who trained for the 2012 NYC Marathon, Hannah Vahaba will not be running the race this year. But she also will never forget her moment at the finish line. After traveling in from Atlanta, Vahaba picked up a marriage proposal in Central Park on Saturday without having to traverse the 26.2-mile course.
"This is my fiance," said Vahaba, 31, who had tears running down her face as she stood in Central Park where the race would have ended, just moments after Martin O'Donoghue had proposed.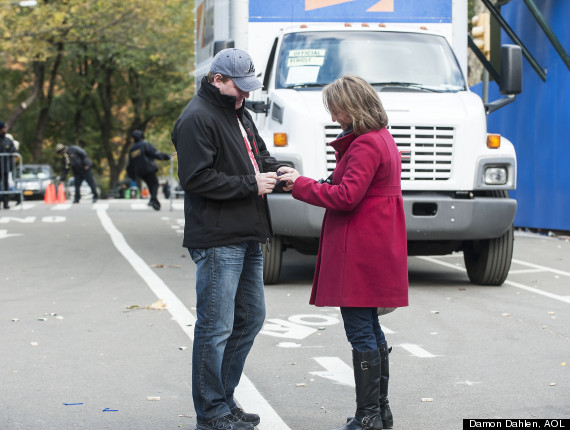 Photo by Damon Scheleur
PHOTO GALLERY
Hurricane Sandy