President Barack Obama's lead among young voters has grown since the summer, with the Democratic incumbent holding a 17-point lead over Mitt Romney, according to a new poll released Monday from the Center for Information and Research on Civic Learning & Engagement.
Obama leads Republican nominee Romney 52 to 35 among voters age 18 to 29 who are registered and "extremely likely" to vote. CIRCLE's polling found Obama gained 7 points since the summer, mostly capturing undecided voters younger than 30. Youth polled said they prefer Obama when asked who "understands the problems of people your age," "will stand up for your interests" and "will help improve the economy."
The poll from CIRCLE, Tufts University's youth research organization, was commissioned by the Youth Education Fund. According to a release, it polled 1,695 people ages 18 to 29 in June and July, and 1,109 of the same individuals between October 12 and 23.
Voters under 30 were credited with helping propel Obama to the presidency in 2008. He carried two-thirds of the youth vote in an election that featured 2.2 million more young voters compared to 2004.
Young voters are increasingly more likely to head to the ballot box next week, according to CIRCLE's polling. Some 67.3 percent of young adults said they are "very" or "extremely" likely to vote, up 7.1 percentage points from the summer. More of them are also paying attention to the election, up to 71 percent from 56.1 percent in June and July.
The numbers don't compare well to 2008, according to the Pew Research Center. It says fewer young voters are registered and paying attention to the election compared to 2008. Pew's data shows although Obama's support among young voters has slipped, he still has a greater support than any other presidential candidate since at least 1980.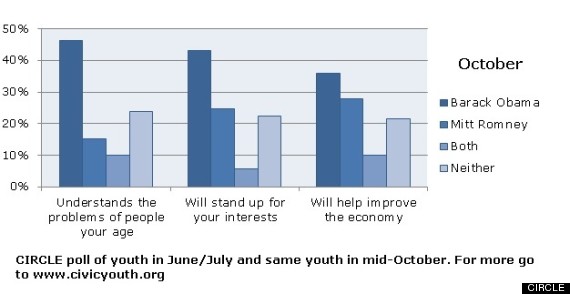 BEFORE YOU GO
PHOTO GALLERY
Political Look-Alikes