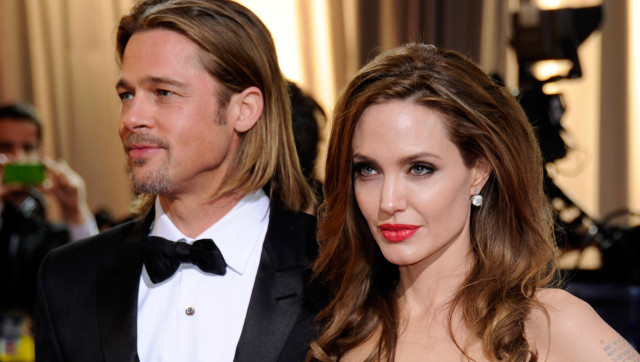 Hypothesizing about celebrity wedding dresses has become a sort of competitive sport these days. Nailing down the designer, fit and now even the color of the famous bride-to-be's gown is a strangely rewarding process (for us, at least). So when a little birdy told Grazia a few sartorial details about the forthcoming Brangelina nuptials, we were pretty excited.
According to the latest issue of the mag, Angelina Jolie will wed in a custom L'Wren Scott dress -- no doubt the boldest bridal designer choice since Natalie Portman opted for her Rodarte number. "Angelina wanted to go with someone who is not so obvious for designing wedding gowns," a source told Grazia. "She's been courted by some of the hottest designers on the planet, but having a big name isn't important to Angelina. She wanted someone she could trust and she most definitely trusts L'Wren."
And why shouldn't she? Angie has worn L'Wren's designs plenty of times before, and the simplicity of her cuts seem perfect for the usually pared-down mother. L'Wren, of course, is no stranger to the limelight either -- the former model is Mick Jagger's statuesque girlfriend. The couple even live right next door to Brad and Angelina in Richmond. How's that for convenience? The proximity must have come in handy, since Angelina and L'Wren are said to have had "several meetings" about the dress already.
Brad and Angie have been engaged for about six months now, yet hardly any details have slipped through the cracks. Hopefully, this latest news will give the couple some momentum to give the public something they can chew on. Of course, none of these details are confirmed, but it seems like a pretty good fit to us -- so it must be true, right?
Now all we have to do is iron out the details of dress itself. Are we thinking a strapless mermaid gown or something a little more princess-y? More importantly, will Angie hop on the colored-dress trend à la Jessica Biel and Anne Hathaway's non-white dresses? Stay tuned!
And since we expect nothing less than an unconventional wedding from Brangelina, check out some non-white wedding dresses worn by other celebs. Do you think Angie will follow suit?
PHOTO GALLERY
Celebs in Non-White Wedding Dresses
Want more? Be sure to check out HuffPost Style on Twitter, Facebook, Tumblr, Pinterest and Instagram at @HuffPostStyle.