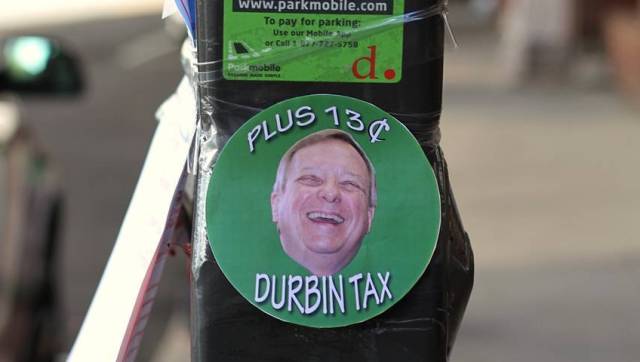 WASHINGTON -- There's been a whole lot of gnashing of teeth over 13 cents.
Parkmobile, the company in charge of mobile parking payments in D.C., is walking back an email it sent to customers last week -- the email explained that Parkmobile would be charging an additional 13 cents every time someone pays for parking using their mobile phone, "due to increased costs triggered by recent federal legislative reform enacted by the Dodd-Frank Wall Street Reform and Consumer Protection Act's Durbin Amendment." (The fees are going from 32 cents to 45 cents per transaction.)
The Durbin Amendment limits the amount of per-transaction "swipe fees" that banks can charge for exchanges involving debit cards.
This amendment, which took effect about a year ago, was unpopular with banks and popular with retailers. It's unclear what effects the limit has on consumers, outside, maybe, of 13-cent increases in parking transaction fees.
U.S. Sen. Dick Durbin (D-Ill.), who sponsored the amendment bearing his name, quickly refuted Parkmobile's email in a letter to D.C. Mayor Vincent Gray (D) and another to Parkmobile CEO Albert Bogaard.
In both letters, Durbin charged that Parkmobile's missive is misleading -- his amendment caps processing fees rather than raising them, he argues, and, further, only affects debit card fees, not credit card fees at all.
Durbin also asked Gray to issue his own statement making "clear that the District of Columbia Government does not agree with Parkmobile's analysis of the cause of these fee increases or endorse Parkmobile's disingenuous assignment of blame."
Gray hasn't yet responded to Durbin's letter -- HuffPost reached out for comment -- but Parkmobile is saying sorry. The company's executive vice president, Laurens Eckelboom, sent a new email to customers on Thursday:
Last week in a press release and email announcement introducing the Parkmobile Wallet, a simpler, lower cost way to pay for parking in the District of Columbia, the company made an overly simplistic statement about the underlying cause of increasing card transaction fees. In an attempt to explain why costs have increased the company left the potentially confusing impression that Federal legislation is to blame. The company apologizes for any confusion caused by this statement.
Of course not everyone thinks the new email indicates real contrition:
Someone who's still clearly unapologetic about Parkmobile's accusation is U.S. Senator Jim DeMint (R-S.C.). Thursday, DeMint issued a response to Parkmobile's response on his Senate website, saying he agrees with the company's original laying of blame:
Senator Durbin would prefer Parkmobile to blame companies that issue debit cards. But, indeed, it was Dodd-Frank, the so-called Wall Street reform legislation, and Senator Durbin's amendment to Dodd-Frank, which capped "swipe fees," that caused debit card transaction fees on lower-priced items to rise.

Debit card processors charge merchants, such as Parkmobile, a fee for every transaction processed. And, before Dodd-Frank was passed, debit card companies could charge higher transaction fees, factoring more expensive items into those costs.

Durbin's amendment, however, capped the transaction fee for all items. Thus, to make up for lost revenues on the higher priced items, debit card companies are passing along increased costs by raising fees on lower priced items, such as the parking fees that Parkmobile processes.

Because of Durbin's amendment, transaction fees for lower-priced items are higher than they were before.
Want more more background on swipe fees?
The National Journal explained the claim that this amendment would lead to increased parking fees:
Before the amendment, credit card companies could essentially charge merchants based on the cost of the item sold. Cheaper items incurred lesser transaction fees, said Parkmobile's Laurens Eckelboom.

But in March, credit card companies raised Parkmobile's transaction fees from 10 cents to 30 cents to offset the fact that they could no longer charge merchants as much for more expensive items, Eckelboom said.

Parkmobile, which charged 32 cents per transaction, saw its margins shrink, he said.
We Love D.C., meanwhile, suggested some nefarious reasons why Parkmobile may have come out against Dodd-Frank beyond just the swipe fee caps.
And if you want to know more about the Durbin Amendment's rather fascinating history -- including who stood to gain from its passage, who stood to lose, and who made a lot of money as the amendment wended its way into law -- here is a comprehensive piece from 2011 by HuffPost's Ryan Grim and Zach Carter.
BEFORE YOU GO