Ohio voters are facing extremely long lines at polling locations on Sunday. Early voting in the state has been reduced from the five weekends before the election to only the weekend right before Election Day.
A federal appeals court ruled against Ohio Secretary of State Jon Husted and in favor of the Obama campaign in October, allowing hours to be extended in the final three days before the election. Husted took the case to the Supreme Court, which declined to hear it.
Early voters in 2008 were much more likely to be African-American in the Ohio counties that include the major population centers of Columbus and Cleveland, according to a study by Northeast Ohio Voter Advocates. Blacks accounted for 56 percent of all in-person early votes in Cuyahoga County, which includes Cleveland, while they accounted for 26 percent of votes overall, the study found. In Franklin County, which includes Columbus, African Americans cast 31 percent of early votes and 21 percent of votes overall.
Early voting line in Cleveland 3x larger than yesterday, when turnout surpassed 2008 levels. Insanely long lines twitter.com/AriBerman/stat…

— Ari Berman (@AriBerman) November 4, 2012
It's a long, long line to vote early today here in Columbus, Ohio. twitter.com/finneganlatime…

— Michael Finnegan (@finneganlatimes) November 4, 2012
This is like 1/3 of the early vote line in Akron twitter.com/daveweigel/sta…

— daveweigel (@daveweigel) November 4, 2012
@joanwalsh long lines in Cincinnati as well.Twice as long as yesterday. More than three city blocks. twitter.com/DavidPepper/st…

— David Pepper (@DavidPepper) November 4, 2012
Cleveland early voting: See that white building at the end? The line wraps around the corner. twitter.com/jbendery/statu…

— jennifer bendery (@jbendery) November 4, 2012
The #SoulsToThePolls initiative has voters lined up for blocks in downtown Cincinnati. (Intersection: Reddy/Broadway) twitter.com/nowthisnews/st…

— NowThis News (@nowthisnews) November 4, 2012
HuffPost reader Lea McBooth sent the following photos from Cleveland: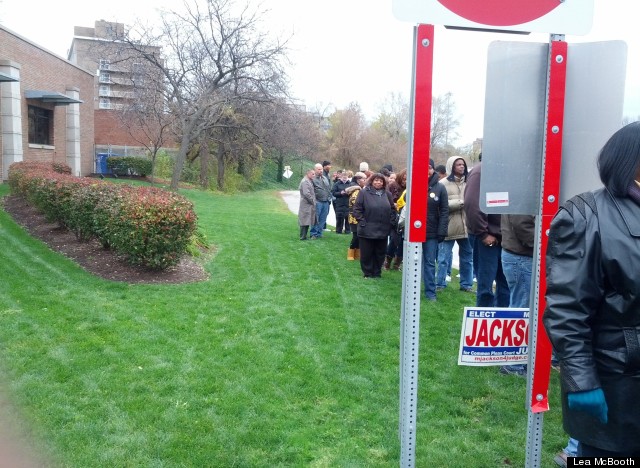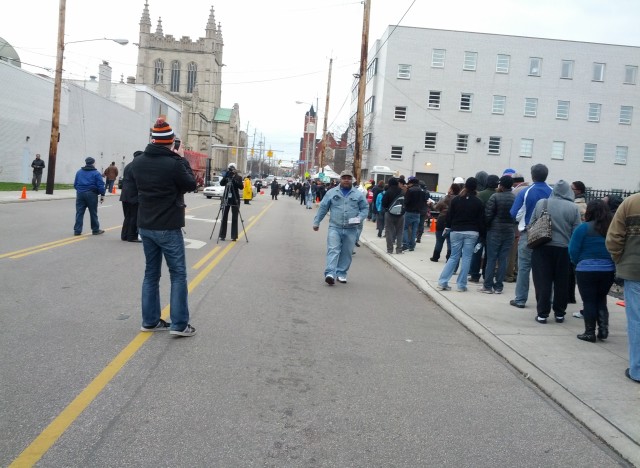 HuffPost reader Ethan Geiling sent this photo from the Franklin County Early Voting Center in Columbus, Ohio: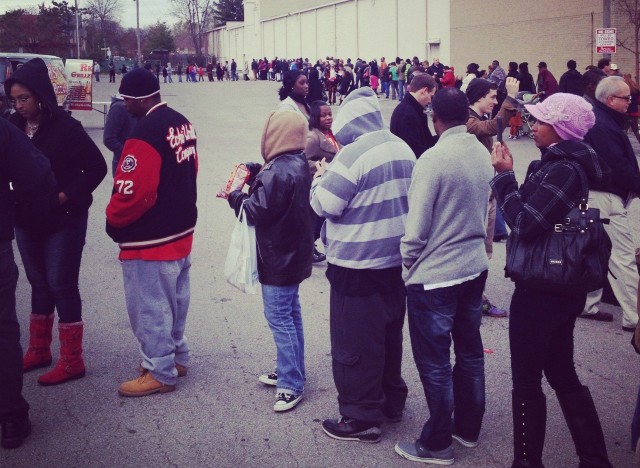 Here is one in Florida,
having its own election problems
:
Voting line in Miami-Dade is now nearly twice as long as before since voting restarted twitter.com/iankoski/statu…

— Ian Koski (@iankoski) November 4, 2012
Are you voting early in Ohio? The Huffington Post is eager to hear your experiences and see your photos. Email us at openreporting@huffingtonpost.com.
BEFORE YOU GO
PHOTO GALLERY
Long Lines For Miami Early Voting