 A record number of young adults ages 25 to 29 have graduated both high school and college in the U.S., a new analysis of census data by the Pew Research Center finds.
A third of young adults have obtained a bachelor's degree and nine out of ten have graduated high school. Pew notes college completion is at record levels across multiple demographics including black, white, Hispanic, foreign-born and native-born American men and women.
College completion is climbing at the same rate for all races, but achievement gaps remain.
Among white [students] ages 25 to 29, 40 percent had completed at least a bachelor's degree in 2012, up from 39 percent in 2011 and 20 percent in 1971. In 2012, 23 percent of blacks [students] ages 25 to 29 had completed at least a bachelor's degree, an increase from 20 percent in 2011. Bachelor's degree attainment among young Hispanic [students] increased to 15 percent in 2012, up from 13 percent in 2011.
While rising college costs and average student debt continues to burden recent graduates, statistics show college graduates stand to gain in a wage premium, which has grown 40 percent since 1983, the New York Times reports.
"The demand for college graduates has been increasing about three percent a year, while the supply has increased only one percent a year, which is why the college wage premium has increased so precipitously," Anthony P. Carnevale, director of the Georgetown University Center on Education and the Workforce, told the Times.
More Americans recognize this benefit too. Gallup polling shows a shift from just 36 percent of Americans viewing a college education as "very important" in 1978 to 75 percent in 2010.
The shift of opinion, however, is global. The U.S. has slipped from its position as the one-time global leader in college completion.
A 2011 report from the Organization for Economic Cooperation and Development ranked the U.S. 16th in the share of adults age 25 to 34 holding degrees, as the Washington Post reported. President Barack Obama responded on the campaign trail, saying his administration aims to make America the world leader in college completion by 2020.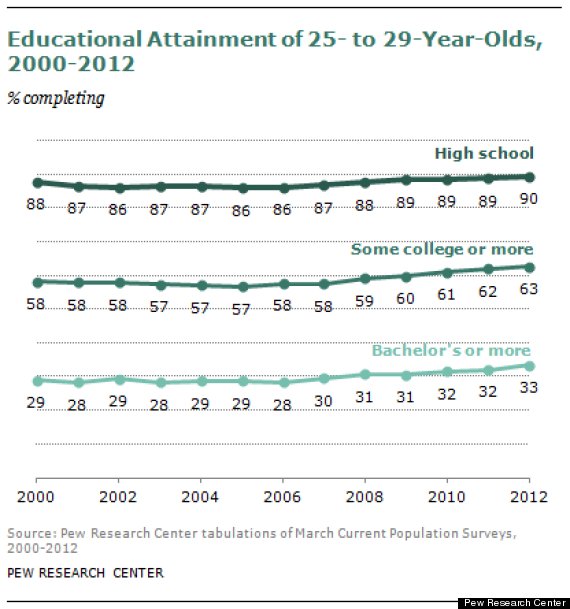 BEFORE YOU GO
PHOTO GALLERY
States With The Best College Completion Rates For 25-34 Year Olds