Rihanna revealed the tracklist to "Unapologetic," her upcoming seventh album Monday night, teasing collaborations with Eminem and Chris Brown.
The Chris Brown song has already set Twitter ablaze, helped in part by its title, "Nobodies [sic] Business." Other features on the fifteen track disc include Future and Mikky Ekko. There are also two consecutive songs -- "Right Now" and "What Now" -- with very similar titles (maybe there's a concept!).
Rihanna's last effort with Eminem, "Love the Way You Lie," was a smash single that topped the Billboard Hot 100 and carried Eminem's album. The video for that song featured Megan Fox playing the part of a woman who was the victim of domestic violence.
Here's the list, followed by Rihanna's photo, which you can click to be taken to her Instagram. The singer will celebrate the album's release with a seven-night blitz across the globe, performing in seven countries and traveling with a crew of international journalists. "Unapolgetic" drops Nov. 19.
1. Fresh Out the Runway
2. Diamonds
3. Numb (feat. Eminem)
4. Pour It Up
5. Love Song (feat. Future)
6. Jump
7. Right Now
8. What Now
9. Stay (feat. Mikky Ekko)
10. Nobodies Business (feat. Chris Brown)
11. Love Without Tragedy/Mother Mary
12. Get It Over With
13. No Love Allowed
14. Lost in Paradise
Bonus:
15. Half of Me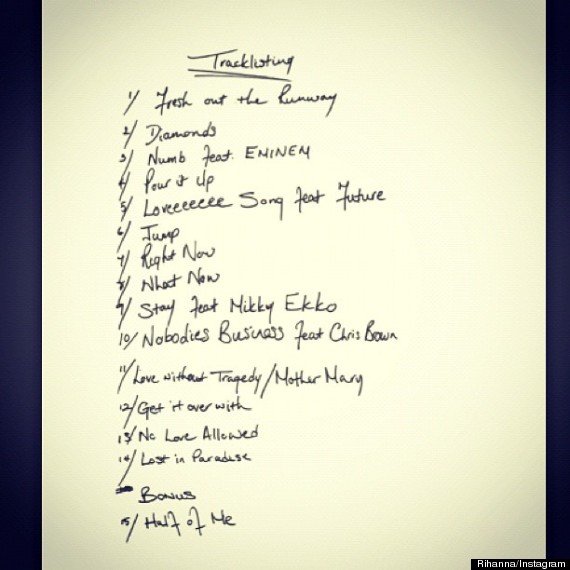 PHOTO GALLERY
Rihanna's Style Evolution
BEFORE YOU GO