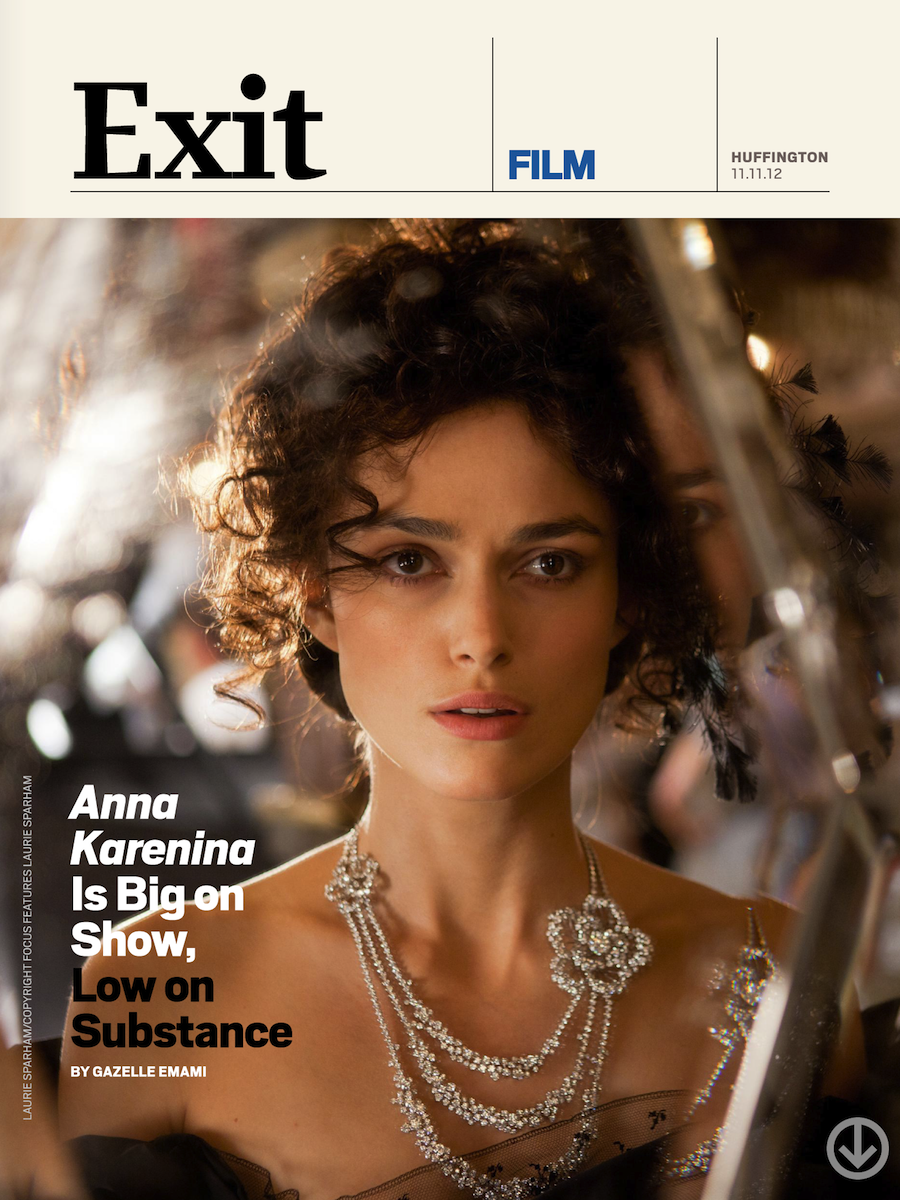 About halfway through Leo Tolstoy's Anna Karenina, the narrator becomes so omniscient he enters the mind of a dog, as her master orders her down the wrong hunting path. "'Well, if that's what he wants, I'll do it, but I can't answer for myself now,' she thought. She scented nothing now; she could only see and hear, without understanding anything."
It's the most extreme example of how much the near 1,000-page epic internalizes--most of the novel is spent winding through the inner recesses of one character after another's thoughts, and second thoughts. The dog's experience here--a fruitless exercise that favors the eyes and ears over the mind--is not unlike watching Joe Wright's film adaptation of Anna Karenina. Rather than try to engage with its characters' complexities, it busies itself with visual distractions that splinter off in every direction, save one that leads to a point.
The distractions begin and end with Wright's unconventional decision to set Anna Karenina and Count Vronsky's forbidden affair on a stage, instead of St. Petersburg and Moscow. "Just as the Russian aristocracy could be described as living on a stage, our story unfolds in a dilapidated theater," he explained. In this one central place of action, sounds layer and scenes blend into one another: exit stage left at a dinner party, enter a wide-open field in the Russian countryside.
Initially, it seems there's a use for this shtick. The more than 100 sets that were built for the job are both gorgeous to watch in motion, and ease the progression from scene to scene (as does Tom Stoppard's chiseled, 130-page script). But Wright's retelling becomes increasingly aimless, his stage gimmick prodding plot points along from one to the next, without waiting for the characters catch up.
The film--which opens in the U.S. next Friday--premiered to mixed reviews at the Toronto Film Festival in September. Some were thrilled by the visual flourishes; others found that while impressive, they left no impression. "Whereas the book is sprawling, searching and realistic, the film is constricted, deterministic and counterfeit," Todd McCarthy wrote in The Hollywood Reporter, while Time's Richard Corliss called it "intelligently ecstatic." The New York Times' Terrence Rafferty put it more diplomatically last week: "every movie adaptation of Anna Karenina is unfaithful in its own way."
Wright's Anna stars Keira Knightley in the titular role: a high-society woman who leaves behind her beloved nine-year-old child and unloved husband (a well-cast Jude Law) for a younger man, Count Vronsky (a miscast Aaron Taylor-Johnson). It marks Wright's third collaboration with Knightley, beginning with 2005's refreshingly well-paced Pride & Prejudice. Knightley looks the part as Anna--dark mess of curls, flickering eyes and elusive charm--but feels more an approximation of her. The more revelatory performances come from the supporting cast. Matthew MacFayden, who played Darcy to Knightley's Elizabeth in Pride & Prejudice, delights as her gregarious brother, Oblonsky. And Wright's inclusion of Levin and Kitty--the novel's secondary love story, oft-overlooked in film--elicits two of the film's most genuine character interpretations.
One of Wright's more astute choices was in not casting Anna and Vronsky's story as one of epic love, as it has been in previous tellings. Tolstoy's novel is realistic fiction, and his lovers--stuck in a lustful, unhealthy codependency--suffer for it. The problem, then, comes in Wright's surface treatment of their relationship. With little explanation of how Anna's life regresses with Vronsky--as he maintains his social cachet, and she is increasingly ostracized--the cause of her slide into depression is hopelessly confused.
As Tolstoy reminds us often in Anna, even so-called surface issues--lust, jealousy, selfishness--have depth. Wright is keenly aware of this. "... The tradition of realism is too obsessed with the surface of things, and what I find so engaging in Tolstoy's novels are the twists and turns in the landscape of the characters' minds," he told the New York Times. "I wanted to find a form of expression that was more capable of conveying that sort of experience."
But Wright's interpretation feels more like an earnest attempt to justify remaking a film that's been done at least 11 times before him. The result is an Anna you must follow mindlessly, without understanding anything.
This story originally appeared in Issue 22 of our weekly iPad magazine, Huffington, in the iTunes App store.