The resilient Indianapolis Colts (5-3) may not be atop anyone's NFL power rankings, but this #Chuckstrong group is becoming the league's most compelling story. With narrow wins in each of their last three games, the Colts have unexpectedly forced their way into the AFC playoff picture. But it is the passion and compassion away from the field that defines them. Until recently, it could be said the team wore those attributes on its sleeves. Now they are even more prominent.
In a touching act of solidarity, Colts' players shaved their heads this week in support of coach Chuck Pagano, who has been battling leukemia since being diagnosed earlier this season. On Monday, Pagano's doctors revealed that the treatment has the cancer in remission
When Pagano visited the locker room on Sunday, his fire and belief were recognizable as he delivered a stirring postgame speech after the Colts' 23-20 win over the Dolphins. What wasn't as familiar was Pagano's appearance. While undergoing treatment, the 52-year-old coach has lost his hair and his signature goatee.
A few days later, the Colts players began shedding their hair in support.
We haven't been together long.. But we're in this together #TeamChuckStrong twitter.com/PatMcAfeeShow/…

— Pat McAfee (@PatMcAfeeShow) November 6, 2012
Director of Player Engagement arranged for a barber to be ready for the players after practice on Tuesday, according to Mike Chappell of USA Today. The first two players to lose their locks were punter Pat McAfee and defensive end Cory Redding. Based on the photo tweeted by McAfee they seemed quite pleased with the barber's work.
#TeamCHUCKSTRONG.. We're in this together.. With @credd90 twitter.com/PatMcAfeeShow/…

— Pat McAfee (@PatMcAfeeShow) November 6, 2012
Once the clippers started buzzing, they didn't stop on Tuesday until more than 20 players were bald.
#TeamCHUCKSTRONG @patmcafeeshow @adamvinatieri twitter.com/MattOverton_LS…

— Matt Overton (@MattOverton_LS) November 6, 2012
Fresh off winning AFC Offensive Player Of The Week Award, Colts quarterback Andrew Luck was among those players who joined in the no-hair movement on Wednesday, according to The Associated Press. Colts owner Jim Irsay tweeted about the team's new look and shared a team photo.
If you take a close look at the team photo, you'll notice (as Chris Chase did) one guy with hair -- a lot of it -- hanging out in the second row. That is 24-year-old defensive back Sergio Brown, who died his dreadlocks orange rather than have them cut off. Brown opted for orange because it is the color for leukemia awareness. Colts receiver Reggie Wayne has been sporting orange gloves and an orange mouthguard as the team has surged in recent weeks.
While the shaved head needs little explanation, Brown had to explain the significance of the hue to his followers on Twitter.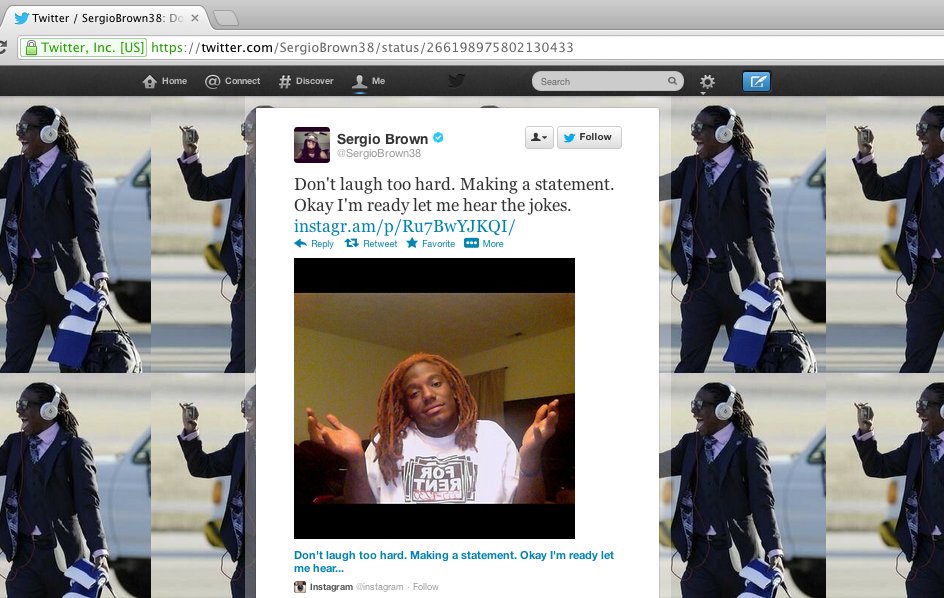 CLICK HERE to see Brown's orange look.
The Colts will have a chance to show off their looks to a national audience when they take on the Jacksonville Jaguars on "Thursday Night Football."