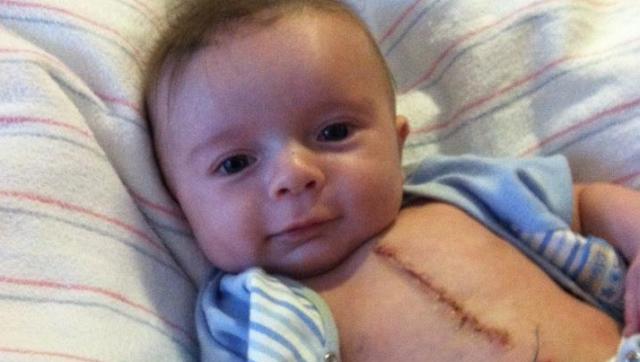 A brave newborn named Joey who came out smiling from an open-heart surgery has become the latest Internet sensation.
When Joey's mother, Sarah Prowling, snapped a photo of her newborn post-operation, her brother Matt Tassone posted it to Reddit with the caption "ridiculously good-looking surgery baby." Right away, users left dozens of comments calling Joey "the baby Bruce Willis" and "a baby who is manlier than me."
"He is the most interesting baby in the world," another commenter said.
Joining in were image-sharing sites like QuickMeme.com, where the photo started a slew of hilarious memes.
Joey's uncle Dan Phelps, however, took a more serious tone in an essay for the Lowell Sun, where he explained Joey's diagnosis.
Tetralogy of Fallot, or TOF, is "basically, a hole in the heart," Phelps wrote. "Luckily, Joey was diagnosed while my niece, Sarah Powling of Dracut, was pregnant, and a plan was put in place to deal with the problem."
That plan included open-heart surgery at the age of three months.
Thanks to pediatric cardiologists who specialize in TOF, Joey underwent a successful operation on October 30 at Boston Children's Hospital. Joey's mom said she took the photo when his father was holding him five days later.
"It was the first time they uncovered the whole scar," Sarah explained to the Yahoo parenting blog. "I just wanted to get a picture of the scar, and he started smiling."
The family, who is surprised but tickled at the attention Joey is getting, hopes it will raise awareness about how to treat TOF. According to Boston Children's Hospital, the disease affects about 2 in 10,000 children.

BEFORE YOU GO
PHOTO GALLERY
Perfectly Timed Photos