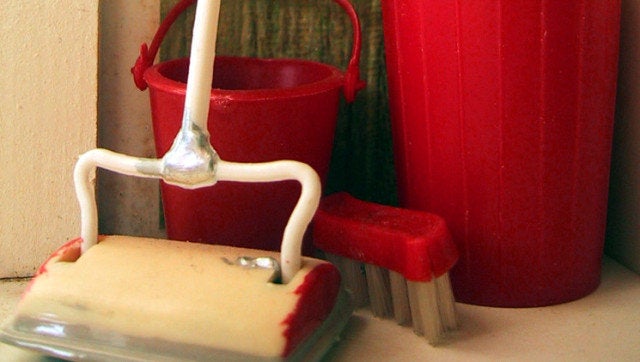 It's been two weeks since Hurricane Sandy devastated the East Coast and Mid-Atlantic and relief efforts are still in full-effect to help the victims and their families. If you or someone you know is returning home to find extensive water-damage to property, there are a few key things to know when cleaning up a home after a flood.
First, before you or anyone steps foot into a house that's been damaged, it's important to check with local officials including fire and safety personnel to make sure the home is secure. It's best to keep children and pets out of the space, even when you've been given the okay to access the area. "TODAY" contributor and do-it-yourself expert Lou Manfredini also recommends turning off the electricity, especially when you're dealing with high-water levels.
The Environmental Protection Agency suggests you dry everything in the home because germs and mold can accumulate after two days. It's best to check with the manufacturers of the goods for the best way to clean it. When doing this, you should wear goggles, gloves, workboots, a mask and long clothing to protect yourself. The Agency also recommends hiring a professional when dealing with a large amount of mold.
Centers of Disease Control and Prevention suggests you remove any items such as mattresses, carpeting, cosmetics and other things that cannot be washed and disinfected. This also includes drywall and insulation that has been contaminated. After you're done cleaning, be sure to thoroughly wash your hands and clothing.
With all of that said, many shelters and drop-off centers are no longer accepting clothing, but are in desperate need of cleaning supply donations to help these families clean up Sandy's aftermath. Many are requesting buckets, scouring pads, sponges, scrub brushes, reusable towels, gloves, masks, shovels, bleach, trash bags and other general cleaning supplies.
To find out what is needed in your community, contact your local officials and/or drop-off center.
If you're not anywhere near New York or New Jersey, consider the ways that you can still help:
Red Cross: Donate online or via text message to American Red Cross Disaster Relief.
Sew For Sandy: HuffPost Home has started an initiative to collect as many warm blankets, clothing and gear for those in need, we are asking our readers to "Sew For Sandy" and put their crafty skills to the test by making simple sewing (or no-sew!) projects to help keep those affected by the storm warm and toasty.