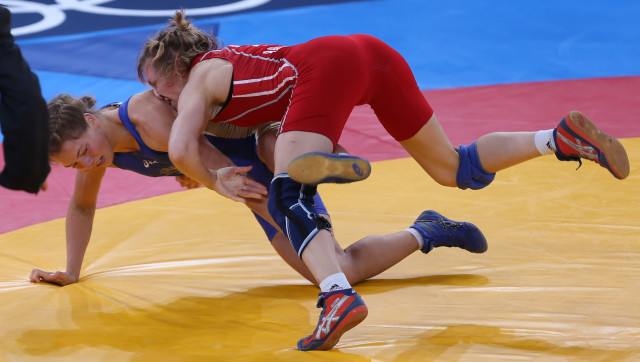 Today's lesson, kids: don't slap people at fashion shows.
You'd think that went without saying, but if you recall, there was a legit slapping incident this past New York Fashion Week at the Zac Posen show. Now that infamous slap between a French editor and a PR executive has turned into a full-on lawsuit.
Women's Wear Daily writes today that Zac Posen PR exec Lynn Tesoro, recipient of the slap, has finally filed a suit against Marie-José Susskind-Jalou, dealer of the slap, as well as her daughters, Jennifer Eymere and Vanessa Bellugeon. Susskind-Jalou is the president of Jalou publishing house and her daughters work at Jalouse and L'Officiel magazines.
After filing a summons immediately after the incident in September, Tesoro has now filed a formal suit in the New York Supreme Court, accusing Susskind-Jalou of battery, Eymere of libel and all three for assault and slander. Oof.
The kerfuffle went down right before the Posen show after several seats were removed. Left without seats, Susskind-Jalou, Eymere and Bellugeon confronted Tesoro angrily. It all ended in a slap, which Eymere described as follows:
"It was a small slap. It was not strong. I didn't hurt her, it was just to humiliate her. She humiliated my mom, and I humiliated her in front of her crew. Voilà. I just said at the end, 'Now you know you don't f--k with French people.'"
Indeed. Seeing how ugly this has already gotten, we're guessing this case could drag on until at least Slapsgiving. In the meantime, read more at WWD.com.
See more outrageous moments from this past Fashion Week:
PHOTO GALLERY
New York Fashion Week's Outrageous Moments
Want more? Be sure to check out HuffPost Style on Twitter, Facebook, Tumblr and Pinterest.