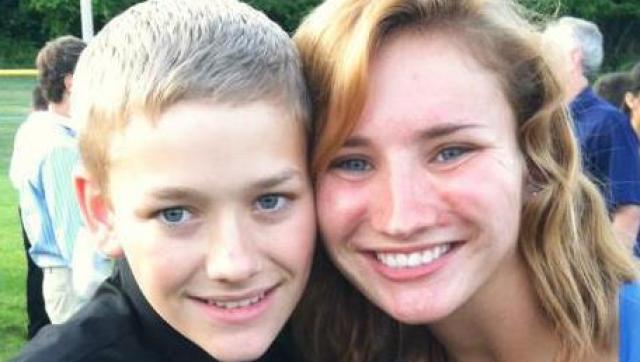 A college student who lost her parents to Hurricane Sandy is having her life rebuilt thanks to the generosity of strangers.
Zoe Everett was just a normal 19-year-old college student before the hurricane ripped through the east coast, killing her parents, and leaving her with three younger siblings to take care of.
According to the Daily Mail, Everett's parents Richard Everett, 54, and, Elizabeth Everett, 46, were killed when a tree fell on their truck while they were driving through their hometown of Mendham Township, New Jersey. Her younger brothers -- Theo, 14, and Pierce, 11 -- were also in the vehicle but were not seriously injured. Another sister Thali, 17, was not with the family at the time.
"I was studying for an exam, waiting out Hurricane Sandy and then I received a phone call. At 11 p.m. on October 29th, I found out both of my parents had been killed," Everett wrote on the Wish Upon A Hero website.
After being reunited with her siblings, Everett found that while lawyers were trying to assess the family's financial situation, she temporarily had no access to any of their parents money. Still, she was determined to care for her orphaned siblings.
According to NJ.com, the 19-year-old then then turned to the website Wish Upon A Hero for help.
Everett posted about the tragedy and asked for a total donation of $5,000 to help her until her parents' funds became available.

I was no longer your typical 19-year-old. A moment in time, a second of bad luck, changed my life and my sibling's lives forever.

I now have two goals: caring for and being guardian of my three younger siblings and keeping my family in the house we grew up in.
The Internet's reponse to Everett's heartefelt post was overwhelming. After making its rounds on social media sites like Facebook and Twitter, more than $56,000 was raised for the family in just one day.
Wish Upon A Hero's founder, Dave Girgenti, told NBC: "This wish was spectacular. The goal for Zoe Everett was only $5,000. The entire country came together to help this girl with her tragedy. Her wish is granted."
Though offers from donors were still flooding in, Everett soon "closed" her wish and said she wants the money to go to other needy families.
She wrote a heartfelt thank you to everyone who donated on the website:
"Wish Upon a Hero has raised funds for my family that have exceeded our wildest dreams. At this point, my family's needs have been met. We would like to draw attention and further donations to other individuals whose needs have not yet been met. My family has been so blessed, and we would like to be able to do the same for others who have suffered the misfortune of Hurricane Sandy.
BEFORE YOU GO
PHOTO GALLERY
Hurricane Sandy Random Acts of Kindness