Maintaining a tan can be a very unhealthy -- and time-consuming -- venture, which is why Lea Michele cuts a few corners and gets a spray tan.
During an appearance on "The Tonight Show With Jay Leno" Monday night, the "Glee" actress described the lengthy process of achieving her glow. Apparently, it involves a group of spray tanners coming to her house with a tent. Don't ask us -- we're lucky if we can clock in a solid 30 minutes of grooming in a day, let alone arrange for a team of beautifiers.
But don't think it's all smooth sailing for Lea. The 26-year-old's most recent attempt at tanning didn't exactly go too well. After getting her latest spray fix, she tells Jay that she headed into the studio as usual. When it was time for her lunch break, she encountered a manager's dog in the break room. We'll let Lea describe the rest:
"The dog jumped on my lap and I was like, 'Oh he's so cute.' But then he wen't to pick up the dog and the dog had peed all over me, which wouldn't have been so bad -- I wiped it off. But, because I didn't wipe off the spray tan yet, it left pee streaks all over my legs for days. I had these like zebra striped pee marks on my leg."
So... we're going to take this as validation for our low-maintenance beauty regimens. Lea also described having to take lemon baths to get rid of the streaks. Again, don't ask us.
As for her outfit during the appearance, the television star opted for a leather Rag and Bone crop top with a matching skirt (well, hello there, 2003). But, like the self-deprecating tanning disaster story, she managed to pull the look off pretty well. Let's just try to not make crop tops a thing again, celebs.
See Lea's leather getup and a clip of her chatting with Jay about her zebra spray tan below and tell us what you think!
PHOTO: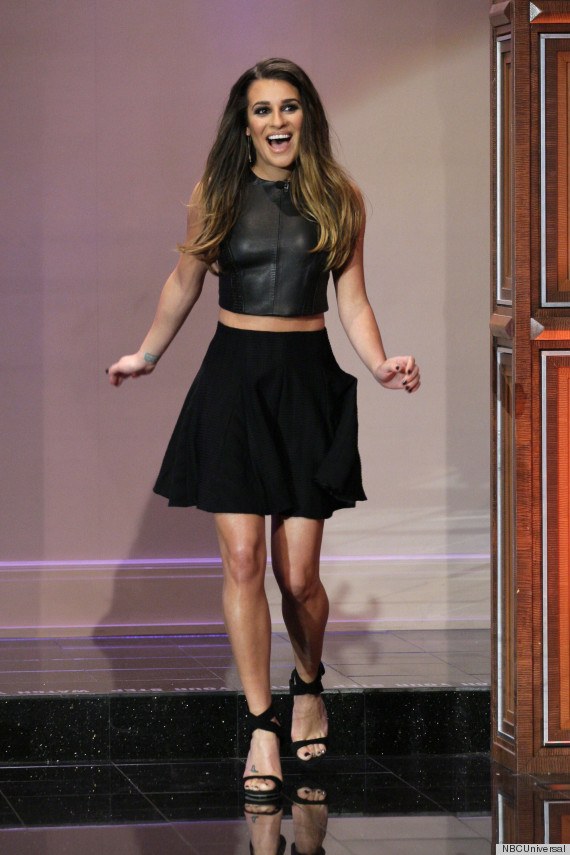 Think Lea Michele's story is bad? Check out these celebrity tans!
PHOTO GALLERY
Worst Celebrity Tans
Want more? Be sure to check out HuffPost Style on Twitter, Facebook, Tumblr, Pinterest and Instagram at @HuffPostStyle.