Statement by the President on the occasion of Diwali:
Today, here at home and across the globe, Hindus, Jains, Sikhs and some Buddhists will celebrate the holiday of Diwali -– the festival of lights. Diwali is a time for gathering with family and friends, often marked with good food and dancing. It is also a time for prayer and reflection about those less fortunate. It is a testament to the compassion of these communities that so many of them have helped those that have been devastated by Hurricane Sandy.
Many who observe this holiday will light the Diya, or lamp, which symbolizes the triumph of light over darkness and knowledge over ignorance. As that lamp is lit, we should all recommit ourselves to bring light to any place still facing darkness. Earlier this year, we were reminded of the evil that exists in the world when a gunman walked into the Sikh gurdwara in Oak Creek, Wisconsin and opened fire. In the wake of that horrible tragedy, we saw the resilience of a community that drew strength from their faith and a sense of solidarity with their neighbors, Sikh and non-Sikh alike. We also saw compassion and love, in the heroic actions of the first responders and the outpouring of support from people across the country. Out of a day of sadness, we were reminded that the beauty of America remains our diversity, and our right to religious freedom.
To those celebrating Diwali, I wish you, your families and loved ones Happy Diwali and Saal Mubarak.
Happy Diwali! How are you celebrating Diwali this year? Share your story with us. Email your photos and reflections to us at religion@huffingtonpost.com. Text submissions should be 300-400 words in length. We will accept them until Nov. 15, 2012.
11/16/2012 12:33 PM EST
Diwali Lights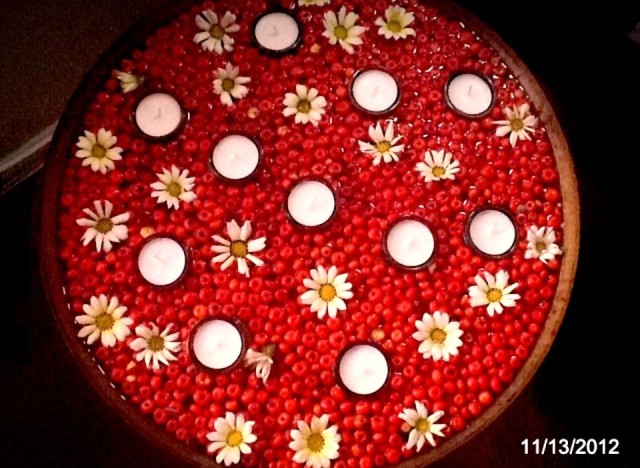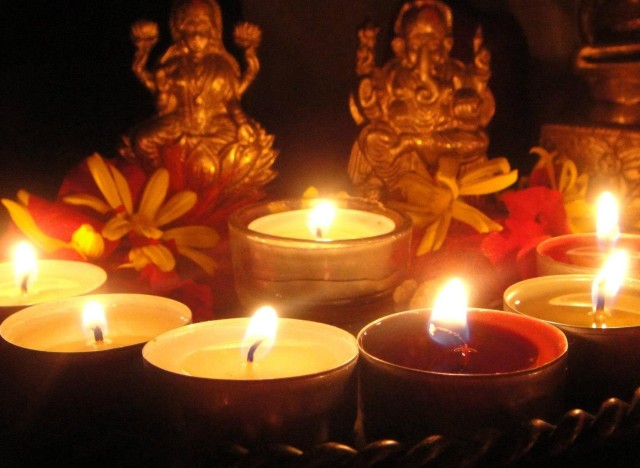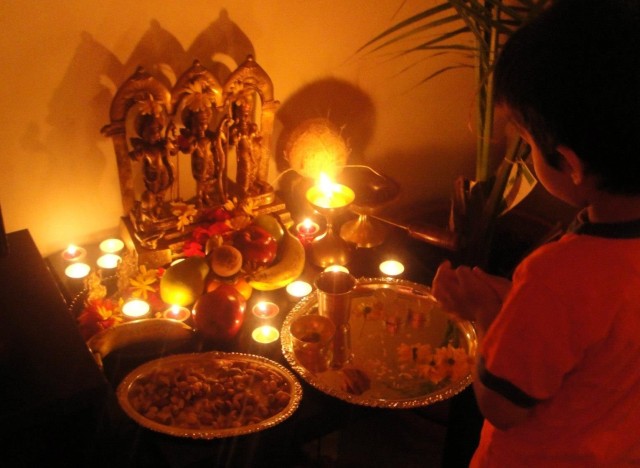 -- Ruby Sinha from Los Angeles, CA
Email your rangoli design or Diwali lights photo to religion@huffingtonpost.com or tweet us at @huffpostrelig using #diwali #mylights
11/16/2012 12:24 PM EST
What Happens in Las Vegas During Diwali?
Diwali, the Hindu festival of lights, is marked by five days of revelry, replete with boxes of desi (pure) ghee sweets and earsplitting firecrackers that sparkle in the sky. The party is incomplete without shuffling a deck of playing cards and winning the popular game or two of teen patti, also known as flash.
If you win at games of chance during Diwali, according to the popular belief, the goddess Lakshmi, the bearer of wealth, will generously bestow riches upon you during the new year. Gambling is frowned upon for the rest of the year for Hindus.
So, naturally, the gaming capital of the United States, Las Vegas, embraces Diwali. And despite the city's well-established reputation as a spot where outlandish, uncharacteristic behavior is welcomed, for Diwali, Las Vegas goes a little traditional.
Read the rest at The New York Times.
11/15/2012 7:03 PM EST
Diwali Rangoli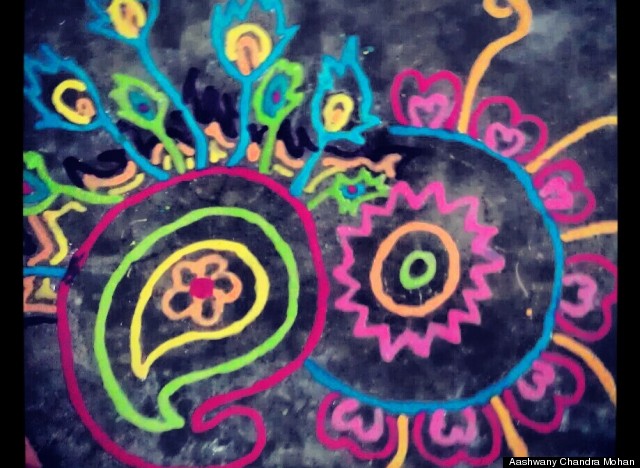 -- Aashwany Chandra Mohan
Email your rangoli design or Diwali lights photo to religion@huffingtonpost.com or tweet us at @huffpostrelig using #diwali #mylights
11/15/2012 4:35 PM EST
Two American Senators Introduce Resolution To Honor Diwali
U.S. Sens. Mark R. Warner (D-VA) and John Cornyn (R-TX), co-chairs of the U.S. Senate's bipartisan India Caucus, introduced a resolution this week to honor and celebrate the festival of Diwali.
"As co-chair of the Senate India Caucus, I am pleased to sponsor a resolution celebrating this important holiday for the Indian people and Indian-Americans here at home," Sen. Warner said. "India is the world's largest democracy, which makes our countries and our people natural partners. It's a relationship based on shared values, and it's one I'd like to continue to grow."
"Diwali's message of tolerance, compassion, and the victory of good over evil resonates with the American spirit," said Sen. Cornyn. "As Hindus, Sikhs, Jains, and others come together to celebrate this festival of lights, let us all be reminded, as Americans, of one of our most cherished freedoms: the freedom of religion."
Read the resolution here.
11/15/2012 3:44 PM EST
Henna Designs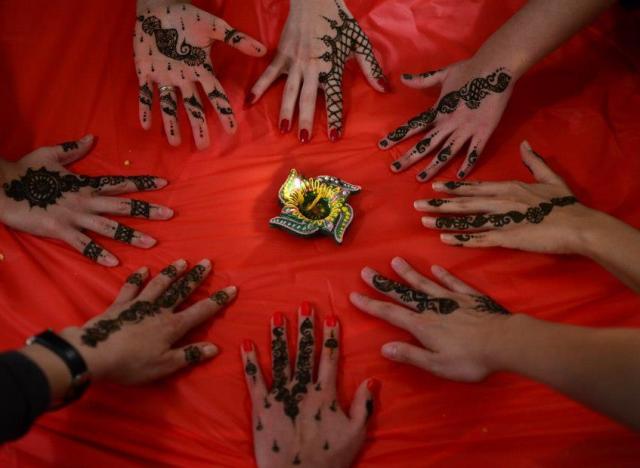 This picture is of the Wharton Partners Club mehndi party from Nov. 14, 2012. We have several first-year club members who are from India, and this is their first Diwali away from home as they moved to Philadelphia while their spouses attend The Wharton School. One woman opened up her home to partners for a get-together to eat Indian food, learn about Diwali, light diya lamps and get henna designs for the Wharton India Club's Diwali party happening Nov. 15, 2012. Photo credit: Anna Chandra Photography
-- Lauren Swanson from Philadelphia, PA
Email your rangoli design or Diwali lights photo to religion@huffingtonpost.com or tweet us at @huffpostrelig using #diwali #mylights
11/15/2012 3:36 PM EST
Diwali Lights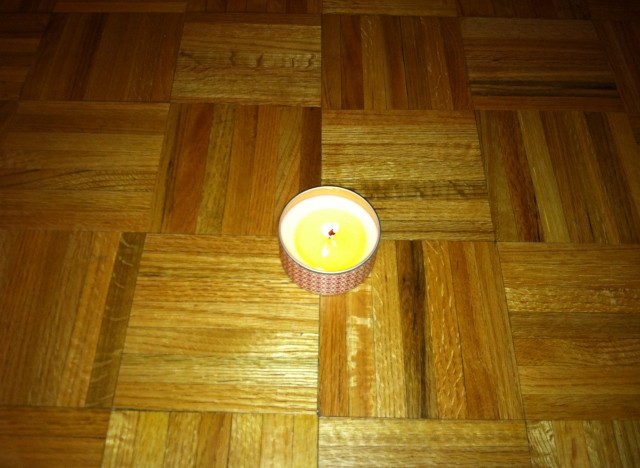 My husband and I got married a few months ago. As newlyweds, we kept it simple by lighting one candle this year -- but the joy in our hearts is still grand. We are very grateful for our wonderful year of celebrations and we look forward to the new year ahead.
-- Depeka Rampertaap
Email your rangoli design or Diwali lights photo to religion@huffingtonpost.com or tweet us at @huffpostrelig using #diwali #mylights
11/15/2012 2:52 AM EST
Meaning of Bhai Dooj
@ TravelMOI :

In literal meaning, 'Bhai' means brother and 'Dooj' means the second day after the new moon which is a day of celebration.
11/15/2012 1:49 AM EST
Fireworks in Delhi, India Fireworks light up the night sky above high-rise buildings during Diwali celebrations in New Delhi, India, Tuesday, Nov. 13, 2012. Diwali, the festival of lights dedicated to the Goddess of wealth Lakshmi, is being celebrated across the country Tuesday. (AP Photo/Altaf Qadri)
11/15/2012 1:28 AM EST
Why I Celebrate Diwali Despite Being an Atheist
I am not religious at all; I am not Hindu, Jain or Sikh. I am an atheist and I am an Indian. I was born in India and raised in the United States.
I love Indian culture. I love the stories, and I love the dancing and the music and all of the colorful festivities. So, for me, Diwali means telling the story of Prince Rama from the Valmiki tale "The Ramayana," thus preserving my culture for my children, who were born and raised in this country. This tale is full of romance, drama, war and intrigue, and is a classic tale in Indian literature; it is also one of my favorite stories. It is in the same vein as Homer's "The Illiad" or "The Odyssey." It is an epic.
When I was little, we used to have "Sunday School" which was our own version of church. We would gather at a different house every Sunday, do puja (prayer) and then my father would tell us stories of Indian culture. He went through the entire "Ramayana" and "Mahabharata" chapter by chapter week by week. My friends, my sister and I would sit in a semi-circle and listen while he told the stories in his own words. Even the adults listened enrapt. My father passed away several years ago, but I'll never forget the wonderful stories he told in his quiet, teacher voice.
I never stopped loving the stories and I read them over and over again. Every Diwali, I tell my children the tale of Prince Rama. In doing so, I am imparting the knowledge of my culture to them. They are half-Jewish and half-Indian so it is important to me that they learn about where I came from because it is a part of who I am.
After the story, we turn on all the lights in the house to light the way for Prince Rama. Sometimes we go to the neighbor's house (a very nice Indian family) and light sparklers with them. But we always do something to celebrate Prince Rama's epic tale.
-- Madhavi Vijay Joshi
11/15/2012 1:02 AM EST
Diwali Lights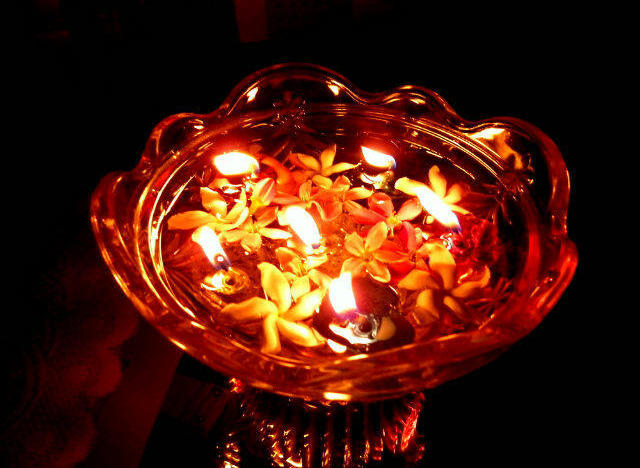 -- Jyoti Yadav from Gurgaon, India
Email your rangoli design or Diwali lights photo to religion@huffingtonpost.com or tweet us at @huffpostrelig using #diwali #mylights
BEFORE YOU GO