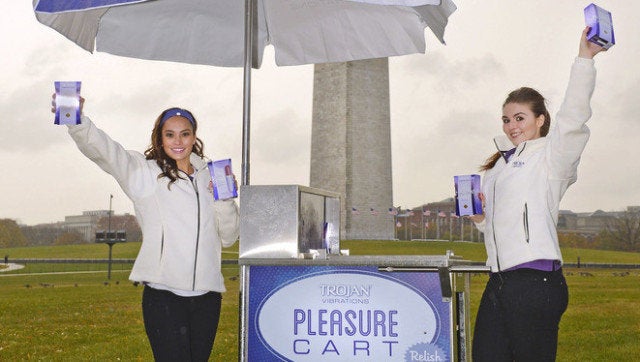 WASHINGTON -- When the line for free vibrators started to block traffic late Tuesday morning, the organizers behind Trojan Vibrations made an executive decision to start their giveaway a half hour early.
Eager women and a handful of men lined 14th Street NW opposite Franklin Park, waiting to enter The Park at Fourteenth nightclub to receive a free Trojan Tri-Phoria Vibrator (retail value $39.99) or Trojan Pulse Vibrator (retail value $29.99).
The line moved quickly. Within five minutes The Huffington Post was able to show ID (this event was strictly 18+), receive a Pulse, pose for a picture and get back to work. The sex-positive event was scheduled for four hours, but with only 3,000 vibrators to give away, the promotion was likely to end early.
More than half of Americans use a vibrator, according to one study. The mainstreaming of the sex toy was apparent with the majority of office workers on their lunch breaks leaving The Park without a bag, comparing the two different models while walking down the street.
Click through the slideshow for photos from the D.C. promotion.
PHOTO GALLERY
Trojan Vibrators Giveaway
BEFORE YOU GO