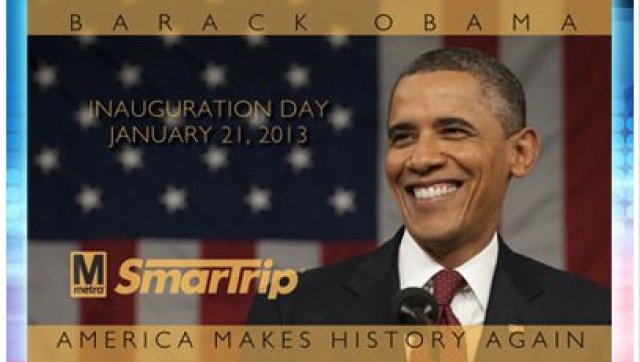 WASHINGTON -- One of the first official souvenirs of the 2013 Inauguration is now on sale. Beginning Tuesday, the Washington Metropolitan Area Transit Authority began accepting presales of commemorative Inauguration 2013 electronic farecards.
The $15 card is a limited edition SmarTrip card features a smiling President Obama pre-loaded with a $14 one-day unlimited trip Metrorail pass. The special farecards will also be good for free Metrobus travel on Inauguration Day, which is Jan. 21.
Metro launched a special webpage for Inauguration Day, including information on Metrorail schedules, additional service and other transit needs. Inauguration-goers can also follow Metro's special Twitter account for updated Inauguration Day info.
The commemorative card will be available while supplies last but interested parties planning on heading to the nation's capital for the festivities may want to purchase a card now.
Paper farecards commemorating the 2009 Inauguration can currently be found on eBay.
Another reason to get a special electronic farecard for Inauguration? If you use a paper farecard, you'll be charged an additional $1 per ride, a fee instituted this past summer.
PHOTO GALLERY
Presidential Inauguration History
BEFORE YOU GO