Police in Virginia say a man charged with a DUI was drunk as the proverbial skunk -- which he just so happened to have in tow -- at the time of his arrest.
Efrain Moreno Alvarez, 40, was charged by the Waynesboro Police Department with driving under the influence of alcohol on Nov. 11. The charge is far from unique, but the circumstances of the arrest stunk, police said.
According to a spokesperson for Waynesboro police, a witness spotted Alvarez strike a guardrail on Interstate 64 with his 1990 Chevrolet Lumina. After the crash, Alvarez fled the scene and continued driving erratically into the city, the witness reported in a call to 911.
A responding officer intercepted Alvarez a few minutes later. It was after the officer exited his police cruiser that he smelled a distinctive odor emanating from the man's vehicle.
"When the officer approached Alvarez, not only did he detect a strong odor of alcohol coming from the driver but also a strong odor of skunk," a spokesperson for the Waynesboro Police Department said.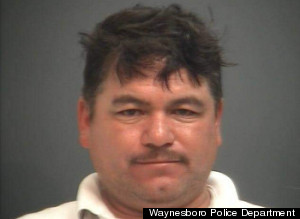 The officer noticed a bushy-tailed object in a plastic grocery bag hanging from the rear windshield wiper of the vehicle. The officer also noted the wiper was in motion even though the weather was clear.
After having Alvarez perform some field sobriety tests, the officer arrested him for driving under the influence. When the officer asked Alvarez what he had in the grocery bag hanging from his wiper, he allegedly said it contained the carcass of a skunk he had killed. The animal, Alvarez told police, had been killing his chickens.
"Alvarez told the officer he was trying to find a receptacle to dispose of the carcass when he was stopped by the officer," the police spokesperson said.
Alvarez, who lent new meaning to the term "skunk drunk," had a blood alcohol content of .15. His vehicle was impounded, along with his rancid cargo and he was transported to Middle River Regional Jail.
BEFORE YOU GO
PHOTO GALLERY
Bad Choices