Food Informants is a week-in-the-life series profiling fascinating people in the food world. We hope it will give you a first-hand look at the many different corners of the food industry. Know someone who would make a great Food Informant? Tell us why.
Christophe Hille is the founder and co-owner of Northern Spy Food Co. in New York's East Village. Before opening Northern Spy, Hille was a personal chef to Annie Leibovitz and the executive chef of A16 in San Francisco. He is pursuing an MS in Nutrition & Food Studies from New York University.
Read about how Christophe and his team dealt with their East Village restaurant during and after Hurricane Sandy.
Monday, October 29
11:00am: I almost always ride my bike into Manhattan, but with the wind starting to howl, that no longer seems smart. My business partner Chris Ronis picks me up at home in Park Slope in his car. The streets are quiet and the drive is easy --subways have been closed since 7:00 the previous evening, which could have led to traffic hell, but people are clearly staying home today.
11:30am: We had put up our winter vestibule only a week earlier and I'm terrified that it will blow away in the storm. I anchor it more firmly to the sidewalk and shore it up all around. I check our 65-gallon compost bin -- full to the rim as expected, our garbage/compost service a no-show the previous night despite their assurances to the contrary (I would cut them more slack, but they've made a sport of unreliability).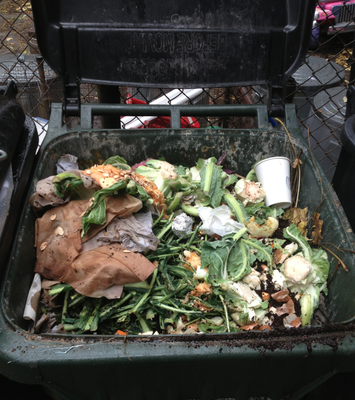 1:00pm: I process payroll and write some checks from the basement office, because it might not be possible to do so later in the week. We head out for home though relatively empty Manhattan streets.
6:00pm: All evening long I'm glued to Wunderground and Twitter, monitoring the state of the storm. The hashtag #EastVillage figures largest in my surveillance. Soon there are reports of flooding on Ave C. We're between Aves A and B, just 1.5 blocks away. It's nerve-wracking.
8:30pm: My #EastVillage search lights up with activity when a trio of small explosions rocks the Con Edison station at 14th St. and Ave C and all electrical power in Lower Manhattan disappears. This means that the power is out at the restaurant.
Tuesday, October 30
11:00am: I spend the morning trading texts with my staff to figure out a plan for the day. The bridges over the East River are re-opened to traffic around eleven o'clock, so I head in by bicycle. There turns out to be no cell phone reception whatsoever in the East Village. Chris had recently purchased a simple analog phone that proved to be an invaluable tool over the coming week. The restaurant was spared any flooding in the basement (like all NYC restaurants, an absolutely vital part of our operation), and I later learn that it was by barely a half-block. Businesses 100 feet down the street received two feet of water in their basement.
12:00pm: Our managers assemble and start assessing the state of our food inventory. It's clear from Con Edison reports that the power outage is major and going to last for several days. Our walk-in (old and not impeccably insulated, it turns out) is already approaching 50 degrees F. I direct the sous-chefs to pull all valuable, highly perishable products and start cooking, because we're going to have a sidewalk buffet for the neighborhood.
12:30pm: I ride my bicycle 20 blocks north and 6 blocks west to get cell phone reception. I send out a ton of emails and texts, and send out a couple tweets about our upcoming sidewalk food giveaway. By the time I get back to the restaurant, my staff is set up and serving food outside the restaurant. There are at least 25 people waiting in line.
1:00pm: Our pastry chef takes pictures of everything in our walk-in that will eventually end up in the garbage for insurance purposes. Having upgraded our insurance policy this year, I'm confident that a portion of the losses will be covered.
1:00-5:00pm: Our staff sends out salads, grilled-cheese sandwiches, slow-roasted lamb shoulders, braised pork bellies, pork sticky rolls, biscuits, sautéed shrimp, baked striped bass, roasted and stewed chicken, pork loin in mushroom gravy, polenta, black-eyed peas, bacon, cookies, and muffins to a steady stream of hungry, happy and kind neighborhood residents. The inventory would have spoiled after another 24 hours, assuming no return of power, so this is just the beginning of our clean up operation doubling as friendly community service. Everyone commiserates about the storm, reestablishes good neighborhood connections, and at least feels less rotten about the situation for the afternoon.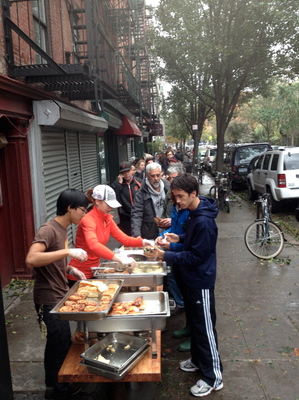 Wednesday, October 31
All Day: We agree to stay home since electricity is not returning soon and there's nothing useful that we can do on-site, absent lights, cell service and power. I spend the day composing a newsletter to customers, sending clean-up coordination emails to staff, contemplating how to secure a generator and gas, working the social media sphere and having exchanges with food media. In response to an inquiry, I start calculating the financial impact of the storm on our business. Every day we're not open is an average of $5300 in lost revenue. Paying managers through the week costs around $6000. Incidentals and fixed costs are another $3200. Around $4000 of food is wasted or given away.
Thursday, November 1
9:00am: Light and power have become dear. I contemplate more schemes to get my hands on a generator, plans that are repeatedly vexed by the current realities in NYC: gas is hard to come by, you need 3+ people to drive over East River bridges into Manhattan, and all of the possible generators are at least a couple hours by car from where I am. I settle for buying a ridiculous number of flashlights. My lovely mother buys us a half-dozen high-quality headlamps in Connecticut and takes Metro North into the city to bring them to the restaurant.
11:00am: We gather at the restaurant for a massive, all-day dumping and cleaning operation with countless black trash bags, large stockpots of water heated on our gas ranges, and a sidewalk soap-and-water hosing station. Our chef spends all day hand-washing containers. Our pastry chef and general manager scrub down the entire walk-in. Sous-chefs dump a week's worth of precious mise-en-place. The smell of spoiled food pervades everything. I transfer 65 gallons of loose, five-day-old compost into garbage bags. Despite the significant amount of food we gave away on Tuesday, another $3000 or so of inventory is dumped into the garbage.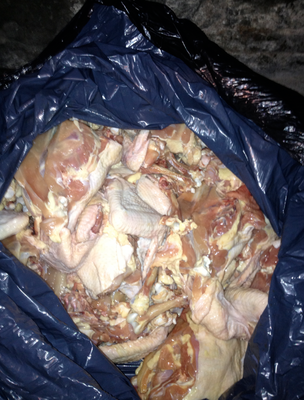 4:00pm: I fight with our garbage company to get the pick-up that has been promised for three days. They seem to think the East Village is like the Ninth Ward post-Katrina -- flooded streets, downed trees, unseen dangers. It's not at all. It's just a quiet place with no electricity and lots of people slowly cleaning up and finding ways to stay warm, get fed and pass the time.
5:00pm: We sit down and strategize about re-opening plans and timeline. It's all perfectly feasible with the hourly staff that we have, who are waiting in the wings and eager to get back to work. But it depends entirely on Con Edison restoring electricity to the neighborhood, which they project for end-of-day Saturday. Everything remains hypothetical until then.
Friday, November 2
8:00am: Getting more agitated about the pace of re-opening, I compulsively consider more generator options. My contractor calls to say that the Home Depot on Hamilton Avenue just received a shipment of 6000-watt generators. We race down, only to find out they've sent all remaining units to the store on DeKalb. He drives us there and we arrive just in time to score one of the six available generators. Greg drives us to the restaurant with the generator strapped to the roof, smoothly soft-shoeing his way past the police officers who stop us at the Manhattan Bridge for not having three people in the vehicle.
5:00pm: Home again on the computer, sending planning emails and monitoring Twitter for signs of power in lower Manhattan. My forager-and-supply-steward unexpectedly reports from the Williamsburg Bridge that power seems to be returning to the Lower East Side. A flurry of texts and tweets to from people in that neighborhood confirms this to be true. The #EastVillage hashtag stream is exploding with unbridled joy. The contingency emails are disposed and we shift rapidly into full-steam-ahead reopening plans.
9:00pm: I retrieve several expensive lamb saddles and four cases of eggs that we had stored at Fleisher's butcher shop in Brooklyn for the week, load up my cargo bike, and ride into a now illuminated lower Manhattan. I suspect until the last moment that the one dark business in the entire East Village will be ours. This fear proves unfounded as I pull up: the point-of-sale system monitor is bathing the room in the sweetest electronic-blue glow that a business owner could hope for.
11:00pm: A cab ride home ends a long, trying week for being in business in NYC. As long as everyone gets back to work tomorrow and quickly restocks the kitchen, we'll be in full swing by Sunday. All in, the experience is in the ballpark of a $33K net loss for us. Others in our field -- restaurateurs in the East Village and Red Hook -- suffered far greater damages and losses, some catastrophic. We can abide this rough patch. Our insurance policy will surely cover some of the losses, right?
Saturday, November 3
8:00am: The restaurant starts humming again with the heartwarming whirr of cooks cleaning and cooking, products arriving, hot water working, kegs reconnecting and refrigerators running.
4:00pm: My insurance broker calls. His gut feeling right now is that insurance companies will decline to cover losses --actual inventory and lost business -- related to the storm and the resulting power outage, even if our policy purports to provide for both. Not a forgone conclusion by any means, but his years of experience carry weight in my mind. The systems we pay into and corporations we're beholden to keep moving the goalposts and redefining normal. A small business had better be equipped to deal with that reality too.
See more Food Informants below:
PHOTO GALLERY
Food Informants