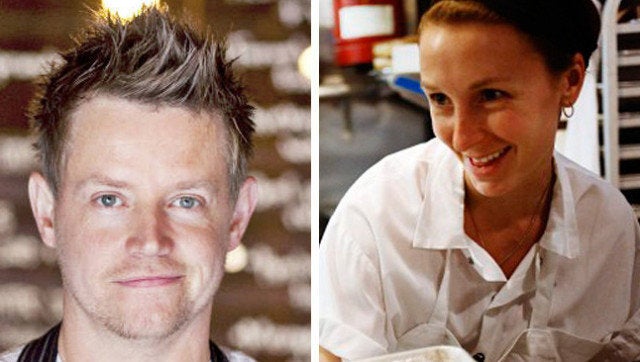 If you love cooking the way we do, you've probably always wanted to take an unfiltered look into the minds of the food industry's biggest influencers. Before their recipes make it into cookbooks or restaurant kitchens, there's a fascinating thought process behind every delicious creation. At HuffPost Taste, we're making it easier for you to tap into these great minds.
We're excited to launch HuffPost Tastemakers, a resource that engages a wide-ranging cast of influential food industry professionals, including chefs, personalities, mixologists, restaurateurs, artisan food makers, writers and more. Our Tastemakers Live Blog gives readers instant access to the Tastemakers' recipes, tips, photos, videos, recommendations and most mouth-watering musings.
Want to see who we've got on the menu? Here's a look at some of our inaugural Tastemakers:
Alain Allegretti: An accomplished practitioner of Southern French cuisine, Allegretti began as Co-Executive Chef at Le Cirque and has since owned Allegretti (Provenᅢᄃale cuisine) and now Bistro La Promenade in New York.
Art Smith: Well known for being Oprah Winfrey's long time personal chef, Smith is an award-winning cookbook author and the co-owner of TABLE fifty-two in Chicago, as well as Art and Soul restaurant in Washington DC.

Christina Tosi: The chef and owner of the ever-popular Momofuku Milk Bar, called "one of the most exciting bakeries in the country" by Bon Appetit magazine.
Craig Deihl: The two-time James Beard-nominated chef leads the team at Cypress (Charleston, SC) using Lowcountry ingredients to reinvent classics as well as prepare dynamic and innovative dishes showcasing his signature style.ᅡᅠ
Francois Payard: A James Beard Award-winning French pastry chef and cookbook author, Payard runs Payard Pᅢᄁtisserie and Bistro, and has previously worked in the kitchens of Le Bernadin and Restaurant Daniel.
Garrett Oliver: The brewmaster of The Brooklyn Brewery, editor-in-chief of The Oxford Companion to Beer, author of The Brewmaster's Table, and one of the foremost authorities in the world on the subject of beer.
Linton Hopkins: James Beard Award-winning chef who runs Restaurant Eugene in Atlanta, GA, and is passionate for all things flavorful and Southern.
Joe Campanale: The beverage director and co-owner of dell'anima, L'artusi and Anfora, this young restaurateur is also a sommelier.
Joe Clarke and Darlene Mann-Clarke: A husband-wife team who run American Grocery Restaurant in Greenville, SC. Joe runs the kitchen with an approach to food based on fresh ingredients from a network of local farmers, and Darlene runs the restaurant's wine program.
Richard Blais: The winner of Bravo's "Top Chef All-Stars," Blais is a successful chef, restaurateur, cookbook author and television persona
Steven Rinella: An avid outdoorsman, writer, and television host, Rinella is an author and the host of MeatEater, on Sportsman Channel.
Yotam Ottolenghi: Ottolenghi is a chef and cookery writer. He co-owns Ottolenghi and NOPI in London, is a presenter on Channel 4 and author of bestselling books, Plenty and Jerusalem.

Keep an eye out for the Twitter hashtag #tastemakers for the latest tidbits from our Tastemakers, and be sure to follow us at @HuffPostTaste! Check out the Tastemakers Live Blog below!