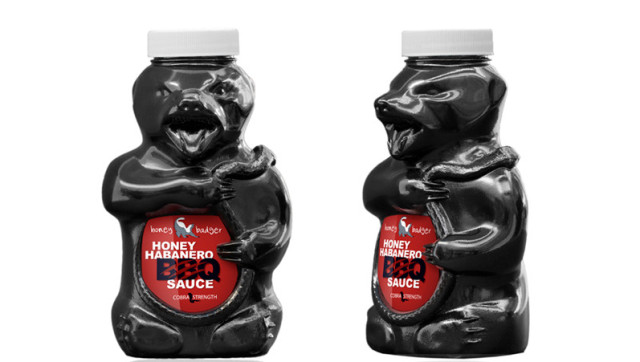 Hey Randall fans! The honey badger is coming back and it'll be in the form of a spicy barbecue sauce. Now, just to be clear, this barbecue sauce was not made by Randall himself -- though we're sure that saucy personality would make a great one.
This sauce, which is coming out soon, was made by three wind turbine developers who, unlike the honey badger, DO care about things -- good barbecue sauce being one of them. The Honey Badger BBQ Sauce was so named because it tastes like real honey, yet has cobra (otherwise known as habanero) strength. Their recipe cuts down on that over-the-top sweetness you can get from many barbecue sauces, which is an endeavor we fully support.
We're pretty sure it won't make you laugh like Randall's honey badger can, but its spiciness (or the price tag) might make you cry. The sauce will come in two options: a 16 oz. Cobra Strength Sauce for $10 alongside and a limited edition blisteringly hot Triple Cobra Strength Sauce for $60. Stay tuned for a taste test.
Want to read more from HuffPost Taste? Follow us on Twitter, Facebook, Pinterest and Tumblr.
Looking for something spicy to hold you over until the Honey Badger BBQ Sauce release? Check out these options.
PHOTO GALLERY
Hot Sauce Tasting Guide
BEFORE YOU GO