When then Duke freshman Kyrie Irving came back from a gruesome toe injury against Arizona in the Sweet 16 two years ago, some believed that his presence in the lineup threw off the Blue Devils en route to the 93-77 thrashing. Just a freshman, Irving had missed 26 consecutive games, yet rattled off 28 points that day in what would be his final game as a collegian.
When Cleveland selected him first overall in the 2011 NBA Draft, Irving was instantly deemed the savior of a morbid Cavaliers franchise still dampened by the sting of LeBron's departure. Irving lived up to the promise, averaging nearly 19 points and five assists while earning Rookie of the Year, eerily similar -- and more efficient -- numbers to those James put up during his rookie campaign in 2003. The Cavs however, with a 20-something laden roster, struggled to find cohesion, finishing 21-45, good enough for dead last in the Central Division.
While Cleveland fans may still reminisce about the days of LeBron, Irving has shown the ability to be equally scintillating, and to be, unquestionably, the franchise cornerstone.
Retired NBA power forward, Olympic gold medalist and four-time All-Star Vin Baker knows all about dominant lead guards. During his tenure with the Seattle Supersonics, he spent five seasons with point guard Gary Payton, a surefire Hall-of-Famer. Baker sees some of the same dynamic ability in Irving that he saw in Payton.
"I think Kyrie is going to be the best point guard in the league," Baker told The Huffington Post. "He -- like Gary -- has every skill set. He can really score and his basketball IQ is at a very high level. What separated Gary from the other great points, like an [Allen] Iverson or [Jason] Kidd, was his post-game. Kyrie has that as well and, he is also able to finish. That puts a major strain on any defense because so few bigs can trap pick-and-roll anymore."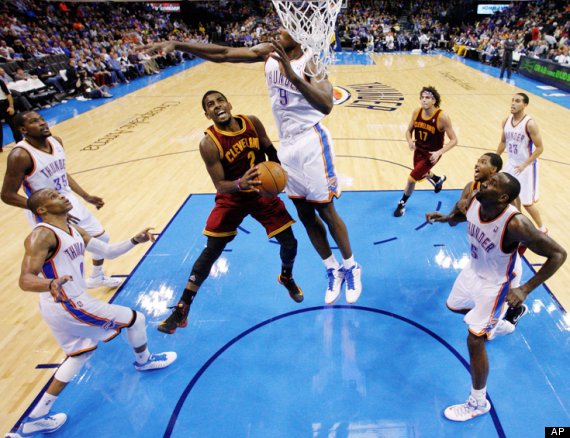 If 2011 was the first course for Irving, still just 20 years old, then 2012 should be an entree. Last season, he was arguably the best shooting point guard around, converting 40 percent of his triples -- the only point guard to do so -- and one of just 14 NBA guards to accomplish the feat. And, remember who he's playing with. While other top flight point guards like Rajon Rondo and Tony Parker have pick-and-roll partners by the names of Kevin Garnett and Tim Duncan, Irving is flanked by fellow 2011 draftee Tristan Thompson, a relatively dependable Anderson Varejao and rookie Tyler Zeller. And, in 2012, Irving has the distinct pleasure of leading one of the league's youngest and most inexperienced rosters.
Through eight games though (the Cavs are 2-6), he has displayed better on-the-ball defense -- which he tells HuffPost is "about being in better shape and taking pride" -- and averaged nearly 24 points and over six assists, shooting 43 percent from distance, while nearly perfecting his trademark knifing ability to finish in the paint with a deft touch. The "paint-game" for any lead guard in the modern era has become increasingly important given the heavy reliance on pick-and-roll. If you cannot consistently finish in the lane, you almost can't run your offense.
"For me, it's about being more patient," Irving says. "Last year, I wasn't as effective as I wanted to be in pick-and-roll, so I watched a lot of film on elite point guards; guys like CP3 (Chris Paul), Deron Williams and Steve Nash."
Eleven-year NBA veteran point guard Earl Watson has made a living by effectively running an offense. Watson believes that Irving has a very special blend of skills comparable to some of the game's best.
"I think he's one of the most polished young point guards I've ever seen come into the game," he told HuffPost. As far as his skill set and finishing at the rim in different ways, he reminds me of a Chris Paul type; he's almost like Kobe in terms of doing things in the post because he's very diverse."
But actually getting time to work out of the post wasn't something that came overnight for Irving. "First of all, I had to earn the trust of Coach [Byron] Scott," he says. "I spent hours in the weight room during the off-season and I have confidence down there. It's all about footwork and creating space. And I don't mind going up against bigger guards. People talk about working hard in practice, but for me it's about honing my skills and perfect practice."
Perhaps Irving's best attribute however, is how well he performs in the clutch. As a rookie, Irving led the NBA in points per 48 minutes -- or game length -- during clutch time, with 56.4 points. Clutch time is measured by 82games.com as the fourth quarter, or overtime, with less than 5 minutes left, when neither team is ahead by more than 5 points.
In recent years, many of today's best point guards faced similar situations as young players in terms of leading scantly constructed rosters. Chris Paul uplifted a dormant New Orleans team from an 18-win cellar dweller to a 20-win improvement the next season. Derrick Rose, in the span of three years, took Chicago from the lottery to the first overall seed in the Eastern Conference. And Irving, a maestro with the ball as a dynamic scorer and wondrous facilitator, has all of the makings to follow in their footsteps.
This, after all, is an era of NBA basketball when the point guard has become a premium position, more so than ever before. The game's best points, like Paul, Rose, Rondo and Parker, have all inked massive deals, something that Irving will certainly command after the 2016 season when the Cavs' front office exercises its qualifying offer.
Given his meteoric rise through the pantheon of all-time greatness, LeBron James leaving Cleveland will forever be a pungent sting, but with Kyrie Irving running the show, there is finally hope. He is young, immensely gifted and just the type of talent that can lure highly coveted free agents that never before would have signed. The next step for him is bringing wins, something that seems to be only a matter of when, and not if.
Email me at jordan.schultz@huffingtonpost.com or ask me questions about anything NBA at @Schultz_Report.
BEFORE YOU GO