The title of Michal Chelbin's recent photography exhibit at Andrea Meislin Gallery is at obvious odds with the subjects that take center frame. Though the title is "Sailboats and Swans," the series features stark portraits of inmates housed in Russian and Ukrainian prisons.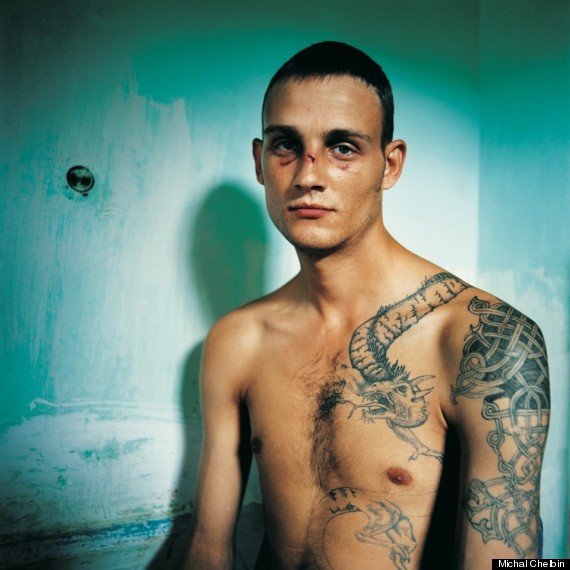 The title refers to the fanciful and elaborate murals the photographer found scattered throughout the jails, which often took the form of pastoral scenes on wallpaper. The odd decor stood out as just one of the many contradictory aspects of imprisoned life. Chelbin ventured to Ukraine and Russia, the birthplaces of her ancestors, and in turned gained rare access to both male and female inmates. In meeting and photographing these prisoners, her aim was to move beyond the crimes that defined these individuals and instead create a complex portrait of each of her subjects. The result was a mysterious collection of images, some evoking the vulgarity associated with men's prisons and others appearing like nothing more than a mundane snapshot of a relative.
The project, which was completed over a six year period, has now been compiled into a monograph by Twin Palms Publishers, accompanied by an essay and interview by A.M. Holmes. Describing Chelbin's work in the book, the American writer states, "The images are about a kind of discomfort—theirs, hers, mine and ours. It is like an old fashioned staring contest."
Scroll through a slideshow of images from "Sailboats and Swans" below and let us know what you think of the photographs in the comments section.
PHOTO GALLERY
Michael Chelbin: Sailboats and Swans
UPDATE: "Sailboats and Swans" by Michal Chelbin will be on view at Andrea Meislin Gallery through January 19, 2013.
BEFORE YOU GO