In the words of Taylor Swift: "This is exhausting."
Justin Bieber and Selena Gomez's breakup is getting ridiculous. We know they are young, but seriously, make up your minds already.
Gomez reportedly ended her nearly two-year relationship with Bieber because she had trust issues, the couple had a hard time dealing with hectic schedules, and later sources later revealed that the split "absolutely, positively involved another woman."
The couple split, but not for long. It appears that they've been trying to patch things up, though it hasn't been that successful. On Friday, the pair allegedly got into a big argument while attempting to rekindle their romance and Gomez stormed out. Bieber followed after her in his car, but he was denied entry at the gate.
But what a difference a day makes. Gomez had a girls' night out with Swift on Saturday, and the singer may have convinced her to give Bieber another chance.
Life & Style reports that the 20-year-old former Disney star was spotted sneaking into Bieber's trailer at the American Music Awards.
"Selena didn't walk the carpet or arrive at the venue with Justin, but after the show I saw Justin's mom, Pattie, come out of his trailer. About five minutes later, Selena walked out," an eyewitness told the magazine.
X17Online's photographer's spotted the couple leaving the Nokia Theatre together hand-in-hand, and later they were spotted at the AMAs after-party at Bootsy Bellows in Hollywood, and stayed for about an hour.
If they are back together again we can't say for sure. But if they are, at this rate they could be broken up again by lunchtime.
Young love is so fickle.
For more photos of Justin and Selena, click over to X17Online.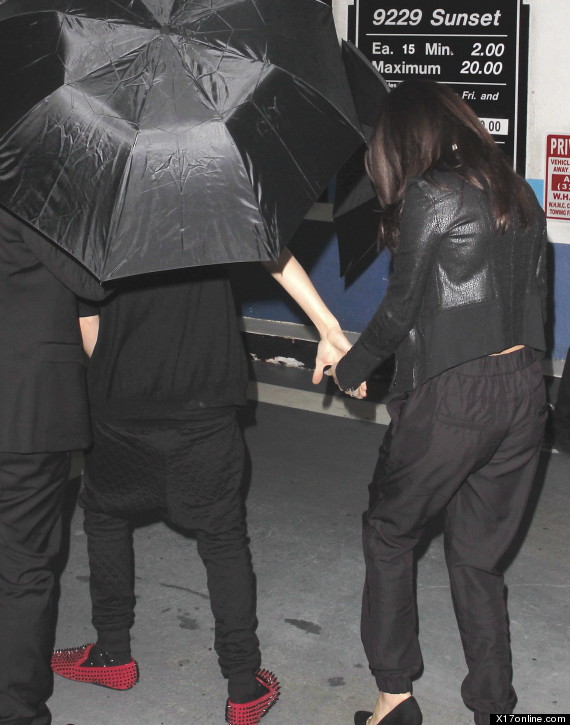 PHOTO GALLERY
Young Celebrity Couples