Which is the copy and which is the original? UK-based artist Amy Robins makes it hard to tell. Here's Robins sketch entitled "Gaya," which is based on a photograph by Benoit Paille. According to Colossal, the 22-year-old portraitist relied on nothing more to render her version than "colored pencils, cartridge paper, and quite a bit of talent."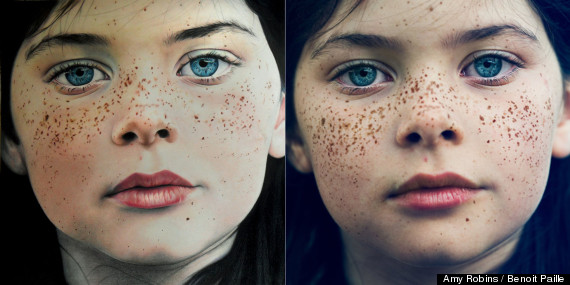 Gaya (left), courtesy Amy Robins/ Gaya 7 (right), courtesy Benoit Paille.
Robins' source material tends to come from the portfolios of fellow Internet artists. She writes on her Behance profile that her reliance on "modern technology and the availability of images and information online" is intended to explore concepts of "reality, place and presence." We haven't been this amazed by a photorealist artist since Samuel Silva.
See more examples of Robins' portraiture in the slideshow below, and visit Tumblr for more of her work. As always, let us know what you think of her attention to detail in the comments section.
PHOTO GALLERY
Amy Robins' Hyper Real Pencil Portrait