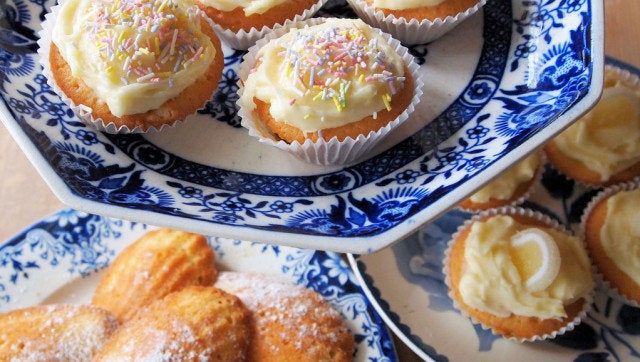 Whether you have great family heirlooms or are trying to build your own collection from scratch, the antiques pros behind Market Warriors on PBS — Kevin Bruneau, John Bruno, Miller Gaffney, and Bob Richter — weigh in on how they bring a little flea market flare to their own Thanksgiving tables. We're talking about items that can easily and inexpensively be sourced at yard sales, flea markets, and thrift shops and add a one-of-a-kind quality to your holiday spread.
According to Market Warriors' John Bruno, "Thanksgiving is one of my favorite holidays because it allows me to use one of my primary collections — dinnerware! Not surprisingly, one of my favorite pastimes is hosting dinner parties where I can use all our stuff, and Thanksgiving becomes the ultimate dinner party."
1. The all-important turkey platter - These large porcelain or ceramic works of art look great in the center of the table and always become a conversation piece. Look for colorful antique and vintage turkey platters.
2. Vases - Vases are plentiful and inexpensive at flea markets. If you're a guest this year, greet your hostess with a bouquet in a vintage vase. They elevate even the simplest grocery store arrangement. Vintage milk glass is an inexpensive, neutral choice.
3. Vintage china - Vintage china and serving pieces are not only beautiful, but can be had for about a tenth of the price of their new counterparts. Patterns and styles run the gamut, but if you want to go with a safe bet, go for vintage white stoneware.
4. Napkin rings - Flea markets are a fantastic place to find interesting napkin rings in silver, Bakelite, celluloid and wood. They add a polished and warm look to any holiday table and make dining seem more like an event.
5. Antique linens - Whether you're using your Grandmother's fine linens or are drawn to a colorful, printed tablecloth from the 60s a beautiful vintage textile will help unify your table arrangement.
6. Cake stands - Cake stands are coveted by collectors and can be pricey at retail stores. They can be found inexpensively at flea markets in jadeite, milk glass, opaline glass and in lots of other incarnations. Make even store bought holiday desserts extra special by serving them on vintage cake stands.
7. Stemware - There is nothing that dresses up a Thanksgiving table more than beautiful crystal stemware. Put it on your watch list during the year when you're out treasure hunting. Fine quality crystal and other stemware turns up at flea markets and auctions during the "off season" and can be purchased for a fraction of the price than paying retail during the holiday season.
8. Salt and pepper shakers - Interesting collectible sets can be purchased for less than "new" sets in the supermarket. These vintage finds are great for the holiday table and add some color and charm to the festivities.
9. Vintage cookbooks - Don't forget about the food itself! Thrift shops and yard sales are a great place to build your cookbook collection. Get inspired this year, and find a wonderful heirloom recipe. You're bound to find a "new" family favorite.
10. Place card holders - Go for a hint of whimsy with your place-card holders this year. Try repurposing something unexpected like these we spotted on Pinterest using vintage children's dollhouse furniture.
So get out there and prowl the markets, shops and sales and find some fun stuff to start your own non-traditional Thanksgiving tradition…. it's easy, it's affordable and it's fun. Here are a few tips from the Market Warriors for the next time you're hunting for vintage tableware:
* Look for items that match your personality, not necessarily what others think you should have for a traditional holiday.
* Look for pieces that can be put in the dishwasher — no sense making this more work than it need be!
* Think outside the box — bright colors, odd items, unique shapes and designs can make for a fabulous table!
* Don't pass up sets with odd numbers — mix & match with contrasting pieces — you'll be surprised how well this works!
MARKET WARRIORS, which airs at 9PM/8C on PBS, follows antiques pickers —
Kevin Bruneau, John Bruno, Miller Gaffney and Bob Richter — on a nationwide
treasure hunt, scouring flea markets for vintage valuables with an eye toward
selling their finds for a profit at auction. Watch a clip of a recent episode below and head to the Market Warriors Pinterest board for more great Thanksgiving table ideas.
Do you have a home story idea or tip? Email us at homesubmissions@huffingtonpost.com. (PR pitches sent to this address will be ignored.)
BEFORE YOU GO