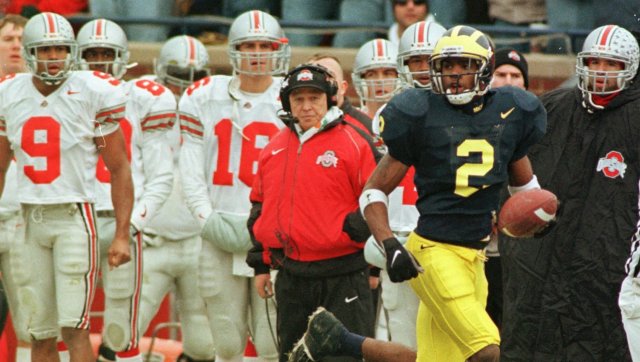 No matter the circumstances, "The Game" is always the most important matchup of the season to both Michigan and Ohio State.
Going back to the rivals' first meeting in 1897 (Michigan won 36-0), the Wolverines lead the series 58-43-6. But Ohio State has dominated the rivalry lately, winning nine of the last 11 meetings. Regardless of which side is in ascendance, the heavyweight pairing is one of the most -- if not the most -- popular in college football.
"The Bo Schembechler/Woody Hayes era, when college football began to explode on a national level -- that's what made this such a visual rivalry for the country to see," said Ohio State coach Urban Meyer ahead of his first turn as a head coach in the ongoing feud, via Newsday.
Back when Hayes' Buckeyes were battling Schembechler's Wolverines in the national spotlight, the Ohio State coach famously refused to even fill his car with gas in the state of Michigan.
"I don't buy one goddam drop of gas in the state of Michigan. We'll coast and push this goddam car to the Ohio line before I give this state a nickel of my money!" he said according to "Woody Hayes And The 100-Yard War," via ESPN's Ivan Maisel.
It's that kind of vitriol that led voters to rank OSU-UM as the most fierce rivalry in college football.
While Schembechler and Hayes provided so much passion and personality from the sideline, the players on the field through the years such as Jim Harbaugh, Desmond Howard, Carlos Snow and Troy Smith have more than held up their part of the bargain.
Who will author the next unforgettable chapter in this storied rivalry?
PHOTO GALLERY
FLASHBACK: Michigan vs. Ohio State Rivalry