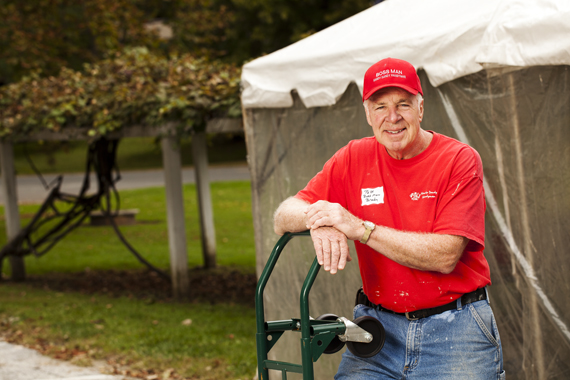 (Photo by Julie Bidwell)
A couple of minutes into a conversation with Peter Brady, and it's clear he's a man of action. Ask him about his volunteer-based organization, and he'll rattle off facts so nonchalantly it'll take a minute for their gravity to sink in.
But do run through them again — when he says he organized volunteers to rake leaves for a morning, what he really means is he raised an army of 1,000 people to descend upon their suburban Connecticut communities, aiding the elderly, sick and those "down on their luck" to tame the sprawling acres of dead leaves and autumn debris in their backyards.
The annual Rake and Bake (which includes a community lunch at the local high school afterwards) is just one of the ventures Brady organizes for his non-profit organization, Handy Dandy Handy Man, which has been servicing the community since the year 2000. Whether a senior needs a light bulb changed or a hoarder needs a $30,000 home makeover before his house is condemned and demolished, Brady has a contact list of 2,000 people ready to back him up when he says the word.
"We all should be doing something for the next person," he says. "Love thy neighbor as thyself. Through the year is really where we make a difference for a number of people. We have served 600 families in these 12 years."
BEGINNINGS
Born in 1941, Brady is the oldest boy and fifth child in a family of seven children. He grew up Catholic in New Rochelle, New York, helping his father with the upkeep of their house on the weekends, a home big enough to warrant constant maintenance.
Weekend home improvement stints with his father were the extent of Brady's handy-man training, as he spent 38 years working corporate jobs at Nestle, the chocolate manufacturer Brady believes makes "the best chocolate in the world."
Remaining a devout Catholic throughout his life, it was a Sunday mass in 2000 — just a couple of weeks shy of his retirement — that spurred Brady to action, after hearing the story of his namesake, Saint Peter.
"And upon this rock I build my church," quotes Brady, referring to Jesus Christ's words to his apostle Peter, naming him as his successor and head of the Catholic church as the first Pope.
"What really caught me was, I was sitting in the front row and the pastor was talking about Saint Peter and the great things he did for others. My name was Peter, and I was going to retire," he says, going on to explain how he approached his pastor in the hopes of helping the elderly in the parish.
His group, which he dubbed a ministry, operated from their church for the first three years. He started out with a very small task force of about 10 people — including Brady, his wife and three daughters — who showed up ready to work on the doorsteps of two elderly parishioners, 90 and 94, respectively.
The operation steadily grew, and after those three years, Brady filed for it to be a 501c3 non-governmental organization, though Handy Dandy Handy Man still has its "spiritual base" rooted at Saint Joseph's Catholic Church in Brookfield, Conn., where Brady was first inspired.
While HDHM has taken off since its early days, there's no real advertising for it, as the organization would be inundated with requests. People hear about it through word of mouth, at schools, churches, rotary clubs and through social services. A committee of seven review the requests and chooses which to follow up on.
CHANGING LIVES
From the smallest to the largest of requests, the organization has become a lifeline, bringing the community together in unexpected ways.
When the home of a single father with three children burned down, Brady shot an email to his 2,000 contacts and before long, handed the man a crisp check for $10,000.
They do one home makeover a year in the area, putting up the resident in a hotel for a month and using money either donated or awarded through grants to pay for the contractors, builders and materials to completely redo the house.
Sometimes the requests are small, but the outcome is literally life changing — one man called Brady asking if he could have food for Thanksgiving. He received a similar call from a woman who happened to be in the same low-income housing block. Brady introduced them to each other and loaded them into his car the next morning for a trip to Shop Rite.
Somewhere between the vegetable aisle and the cereal aisle a spark ignited, and six months later Brady was asked if he would be the best man at their wedding. Not only did he and his wife stand as matron of honor and best man, but he also set up a gazebo wedding for them, and a family donated their vacation house in Vermont for the couple's honeymoon.
As for Brady, the 71-year-old doesn't plan to slow down anytime soon.
"My goal is to make 80 working for the ministry here, and then by the end of the year pass it along because I suspect I probably won't be climbing ladders or anything," he says. "But I'd like to spend more time with the grand kids."
This story originally appeared in Huffington, in the iTunes App store.